When it comes to bass fishing, all that our minds think about is a baitcaster. The best baitcasting reels are the foremost thing for everyone into bass fishing because of numerous reasons. Just like most fishermen, my experience of using baitcasters was incredible. As I compared it with the spinning reel, I could conclude that baitcasters are far more accurate and offer better casting distance.
Buying baitcasters could be a bit challenging for which you must know the important considerations. For example, material, ball bearing system, the gear ratio, and more. I have tried to explain each feature in detail which will help you in your pursuit of buying the best casting reel.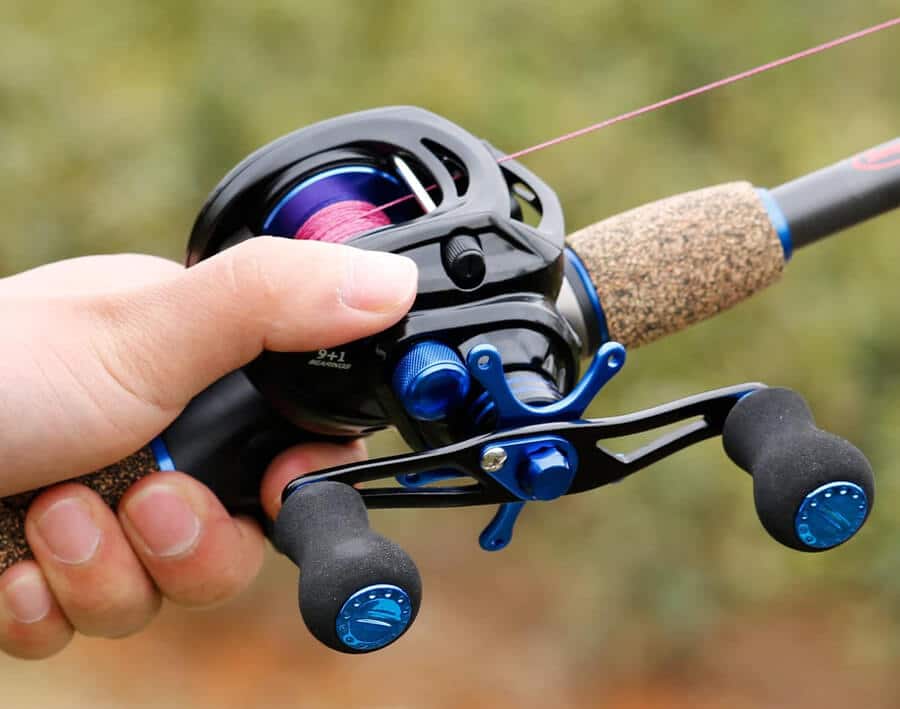 Our team tested out the best baitcasters in a couple of locations including Michigan, New York, and Alabama. As a result, we shortlisted the 15 best baitcasting reels that amazed us with their impressive performance.
Out of all reels we tested, SHIMANO Metanium is arguably the best baitcasting reel among all anglers for its smooth anti-backlash long distance casting. The next top three recommendations would be Daiwa Tatula SV TW Baitcast Reel, Shimano CURADO DC, and Lew's Tournament MP Baitcast Reel.
In this article, you can find the best baitcasting reels for every budget and for an amateur as well as an expert. So without any further ado, let's dive into the details.
First is a quick overview of the 15 best baitcaster reels:
Quick Overview – Best Baitcaster Reels
15 Best Baitcasting Reels in 2023
Specifications
Gear ratio: 7.4:1
Max drag: 10 lbs.
Hand orientation: Right hand
Weight: 0.7 lbs.
Shimano baitcasting reels have long maintained their reputation in the fishing industry mostly because of the first-rate features that it offers. And Shimano Metanium is one of the smallest baitcasting reel. As I tested this reel, I was amazed to see the versatility helped me with big catches such as salmon, frogs, etc. As for the hand orientation, this reel isn't ambidextrous and hence can only be used by right-handed people.
Some other praiseworthy features that worked impeccably well for me include incredible cast distance with adjustments, SVS Infinity braking, and more. I tried fishing in saltwater as well as freshwater and the reel worked fine in both. However, after the use of saltwater, I rinsed it with fresh water and lubricated it to preserve its supremacy.
Pros
Exceptional performance
Smooth casting
Lightweight
Integrated with Silent Tune technology
Cons
Expensive
Only available for right-handed people
Verdict
My personal experience of using this model from Shimano has been pretty impressive and I have concluded that this reel as a high-end baitcaster reel for every bass angler. One of the Best Baitcaster For Light Lures with a 7.4:1 gear ratio and10 lbs. max drag, and lightweight and superb performance, this one has everything you look for in a premium baitcasting reel.
Specifications
Ball bearings: 9
Gear ratio: 6.2:1, 7.1:1, 8.1:1
Max drag: 11 lbs.
Hand orientation: Ambidextrous
Weight: 0.40 lbs.
Up next is another tremendous model from Shimano which has improved a lot in terms of construction as compared to its previous models. Right out of the box, this baitcaster looks premium. This reel worked magically for various fishes such as crappie. I loved how this reel lowers the inertia and results in a better casting distance.
However, because of the magnumlite spool, the manufacturers suggest the users to not use this reel in saltwater. Because of its low-profile, its line capacity is pretty amazing whereas, the 11 lbs. drag makes pulling even the heavier fishes convenient.
Pros
Lightweight
Easy dial-in
Enhanced durability
Top-grade performance
Verdict
As a whole, the Shimano Chronarch MGL is one of the most innovative baitcasters I have ever tried. With the integration of signature technologies such as X-Ship gear support technology, Micro-Module Gearing, and more, Chronarch MGL is the best baitcaster reel for swimbaits, punching, and frogging.
Specifications
Ball bearings: 3
Gear ratio: 5.0:1,
Max drag: 17.5 lbs.
Hand orientation: Right hand
Weight: 0.7 lbs.
Shortlisting the Shimano Calcutta B as one of the top baitcasters wasn't hard because of its major features. First off, its shiny aluminum forged frame was quite attention-grabbing whereas its light weight made me feel even better. The bearing works smoothly while the drag is quite nice too. I targeted big bass, northern pike, and muskies along the coasts of Winsconsin state and to my surprise, this reel was such a game-changer.
Luring such big fishes is surely a dream for every fisher and this reel made it possible. Being a right-handed person, using this reel wasn't a challenge but it could be for left-handed people. The bait clicker is quite noticeable and gives a little pressure when the fish runs with the bait. For salmon fishing, I paired up the reel with Power Pro-Line and it worked flawlessly.
Pros
Durable
Excellent for big bass
Great for freshwater and saltwater
Anti-rust bearings
Cons
Lacks left-hand orientation
Verdict
Overall, the Shimano Calcutta B is surely one of the best round baitcasting reels for bass one could invest in. Its power-packed performance and useful measures make it extremely easy to use for experts and beginners both. If you don't have budget issues, it would be wise to consider this reel as your perfect match.
Specifications
Ball bearings: 6
Gear ratio: 6.2:1
Max drag: 11 lbs.
Hand orientation: Right hand
Weight: 0.48 lbs.
The most admirable thing about this new baitcasting reel by Shimano is the integration of digital braking technology in it. Shimano has already won over the most professional bass anglers from around the world and is continuing to do so. It features a microcomputer which was superb in monitoring the spool speed.
I paired up the reel with the Waterloo rod and used it without any complications. However, in order to use the spool release button, you will have to thumb it. Whereas while casting, there won't be a need for thumbing and the reel would still work fine,
Because of the minimal backlashes, the overall fishing experience was extremely effortless. While the reel isn't described as waterproof, my experience of fishing during the rain was still amazing since I was able to catch salmon and some large fish such as big-mouth billy bass. It is also designed for freshwater as well as saltwater fishing. However, to ensure the reel's longevity, it is suggested to rinse it with fresh water after saltwater fishing.
Pros
Variable brake system
Max drag lures heavy fishes
Super free spool
Verdict
Sporting commendable features, the Shimano Curado DC is indeed one of the best saltwater baitcasting reels to look for. If you desire to fish in different waters and lure larger fish, this reel would not disappoint you at all.
Specifications
Ball bearings: 10
Gear ratio: 6.6:1, 7.3:1, 8.1:1
Max drag: 22 lbs.
Hand orientation: Ambidextrous
Weight: 0.37 lbs.
I was not much familiar with the mastery of 13 fishing reels sunless I used one myself. The casting reel is constructed out of robust materials and felt super durable in hand. Its size is compact as well and it fitted my palm perfectly. The user manual it comes with taught was easy to understand and taught me a lot about making the most of this baitcaster.
One of the most impressive things about this reel is its compatibility with a variety of lines. During the field test, it did the job splendidly with various lines that I used including 8-strand Diawa, Spectra, and Power Pro 8. The reel comes with a beetle wing rapid access side plate which is incredible.
It would be worthwhile adding that I propelled 13 Fishing Concept TXZ Baitcaster in saltwater multiple times and didn't rinse it with fresh water afterward. The aim was to test the black seal corrosion-resistant bearings and to my astound, the baitcaster was still as smooth as it was in the first use. However, after the results, I started rinsing and lubing it after the use for an extended lifespan.
Pros
Marvelous performance
Great value for money
Smooth casting
Great drag system
The 6-way centrifugal braking system
Cons
Might attract grime and dirt
Verdict
As a whole, 13 Fishing Concept TXZ Baitcaster came as a game-changer for the bass fishing experience. The feature that makes this reel stand out among others is the performance in saltwater and the availability of the same model in two different hand orientations i.e., left and right. This will help everyone utilize this reel for their fishing.
Specifications
Ball bearings: 8
Gear ratio: 6.3:1, 7.1:1, 8.1:1
Max drag: 11 lbs.
Hand orientation: Ambidextrous
Weight: 0.41 lbs.
Daiwa Tatula not only the best daiwa baitcaster but also the best baitcasting reel of all time due to its exceptional anti-backlash and long distance casting features. And not only Tatula comes with high-end performance but also an eye-catching design.
I have used Tatula Elite Reel for catching trout, salmon and bass while drifting. It casts smoothly, retrieves quickly, and has a strong drag system. I found it a better choice for distance casting as compared to other brands. The black-colored Aluminum spool is light in weight making it more appropriate for ambidextrous use.
I think the well-structured combo of spool design and the braking system gives more easy casting. The spool aids in high casting distance with no stress on your hands in the long run. In my experience, it is a great option if you are looking for a low-key edition of the brand's already successful Tatula bass series. The Magforce braking, T-Wing system, and Zero adjuster make it the top baitcasting reel.
Pros
Zero backlashes
Lightweight 
Appropriate for long distance casting
Magforce braking
Verdict
From my experience, I can say that Daiwa Tatula Elite is one of the best baitcaster for long casting distance you can get in the market. It has a rich and cool vibe and I loved catching some lovely bass and salmon with it. It worked great for me in both fresh and salted water.
Top Baitcasting Reels Under $200
Complete guide on best baitcaster under 200
Specifications
Ball bearings: 7
Gear ratio: 6.3:1
Max drag: 14 lbs.
Hand orientation: Right hand
Weight: 0.45 pounds
In my personal opinion, Daiwa Tatula SV TW is an all-in-one package. It comes in black color, has a sleek design, smooth grip, less weight, and great performance. As I tried it, I think it can be classified as the best baitcasting reels under the $200 price tag because of its strong backlash control. Casting during the heavy wind never ended up with any issues for me while using this reel.
The long drag with 90mm Swept Handle made it the ultimate trout-catching partner. For me, the SV spool and Daiwa Tatula's highly effective braking system gave me more control over the distance and casting than other high-end baitcasting reels. Another great thing which makes it more impressive according to me is its low maintenance. However, as for hand orientation, it works fine for right-handed people.
Pros
Backlash control
Multiple gear options
Smooth operation
Cons
Noisy
Right-hand orientation only
Verdict
The first thing that impressed me about Daiwa Tatula SV was its cool design. But that's not the only thing. Daiwa Tatula was full of great features. It allows you to cover a lot of distance throughout the day without any backlash, and can be regarded as best anti backlash baitcast reel. For right-handed people it is fine but for left-handed people, it can be problematic.
Specifications
Ball bearings: 10
Gear ratio: 6.6:1, 7.3:1
Max drag: 24 lbs.
Hand orientation: Ambidextrous
Weight: 0.46 lbs.
The Korean-made baitcasting reel by Abu Gracia is another top choice for everyone interesting in bass fishing. This reel cost a comparatively lesser price without causing any major flaw in the performance. It is ergonomic and offers amazing castability which makes luring the fish much more convenient and more fun. Because of the dual brakes, it was pretty easy to throw lighter lures.
My bass fishing session in Missouri was made a lot more amazing with this reel, thanks to its comfortable handling. From casting to retrieve and pitching to flipping, this baitcaster is a big hit in freshwater and saltwater both. The mighty 24 lbs. drag was unique and a great feature that isn't generally offered in reels available under $200. I also felt a significant weight reduction in this model as compared to its predecessor mostly because of the C6 carbon side plates.
Pros
Incredibly smooth
Enhanced durability
Efficient dual braking system
Great for saltwater
Verdict
My experience of catching big baits with this low-profile reel in the streams of Missouri was exceptional. I was able to catch channel catfish, largemouth bass, and flathead catfish. Abu Garcia Revo SX is another best baitcasting reel for the money that is available in left-handed and right-handed versions both.
Specifications
Ball bearings: 10
Gear ratio: 5.6:1, 6.8:1, 7.5:1, 8.3:1
Max drag: 20 lbs.
Hand orientation: Ambidextrous
Weight: 0.43 lbs.
Among the most popular baitcasters is this remarkable model from Lew's Tournament. Known best for its quietest performance, this reel feels super light and comfortable in hand. During the field test, this reel was exceptionally smooth and easy to use.
Luckily, I encountered no backlash but a little birds nest because of the adjustments I made. However, handling it wasn't much of an issue. The reel offered superb alignment and precision, thanks to the pinion gear supported by a P2 Super Pinion bearing.
Even though the retrieval is pretty swift because of the 5.6:1 gear ratio, the model with the 8.3:1 gear ratio is much faster. This particular model comes in four different gear ratios which you can choose according to your preference. Moreover, I match two different rods with this baitcaster i.e., Falcon rod and TP1 black rod for big mouth bass. Luckily, both did a phenomenal job.
Pros
Multi-setting brake
Lightweight yet sturdy
Fits hand comfortably
Comes for both left-handed and right-handed people
Verdict
Considering all that said above, this silent model from Lew's Tournament is indeed one of the best casting reels boasting distinctive properties. My experience of fishing for heavy fish in saltwater has been beyond my expectations with this reel.
Specifications
Ball bearings: 9
Gear ratio: 5.4:1
Max drag: 35 lbs.
Hand orientation: Ambidextrous
Weight: 0.33 lbs.
KastKing is a renowned name in the fishing industry and has gained immense popularity even among professional fishermen. When it comes to baitcasting, KastKing has some pretty decent choices to offer and the Kapstan Elite model is one of its best examples. Integrated with a high-end drag, the Kapstan baitcaster performed astoundingly for targeting catfish and musky. Moreover, its bait clicker was a great feature that alerted me as soon as any fish ran along the line.
Versatility is another major reason why this reel is amongst the most popular baitcasters. That said, I was able to successfully catch some rockfish, halibut, and ocean lingcod. You can also use this gear for heavier swim baits such as striped bass, flathead, catfish, etc. Baitcasting reels made in USA are designed to perform in the bays of every state. Rightly so, I tried this reel in three different states, in freshwater as well saltwater, and the performance was impeccable in every use.
Pros
Compelling baitcaster
Suitable for inshore saltwater fishing
Reliable and durable
Ultra-smooth and quiet
Cons
A bit chunkier for small hands
Verdict
All in all, this model is one of our favorite mid-range choices for baitcasters because of all the right reasons. It is smooth, works efficiently, comes in an ambidextrous hand orientation, and more. In short, this reel from KingKast has everyone one expects from the manufacturer.
Specifications
Ball bearings: 11
Gear ratio: 10.5:1, 8.6:1
Max drag: 18 lbs.
Hand orientation: Ambidextrous
Weight: 0.41 lbs.
KastKing has come up with a reel that is a must-have for everyone, especially pros. What I loved the most about it was its high gear ratio and its high-speed bait caster. It has the Hamai precision-cut aerospace aluminum 44.3mm main gear along with the brass pinion gear that took my ultimate fishing game to next level.
In my point of view, not only speed but also high-performing brakes make it unique. I could easily control the fast speed through its 'Demon Eye' centrifugal brake system. Other features make it the Best baitcasting reels for me. The v-shaped spool, split the main shaft to decrease the total weight, 6.7 lbs. cast, worm shaft, solid aluminum frame, etc.
Pros
Super-fast speed
Great brake system
Robust and durable
Cons
Spool/drag might fail after some time
The Thumb bar is too low
Verdict
I think this is one of the fastest and among the best baitcasting reels, you can find in the market. It took me some time to get used to the speed and speed dial. But once I got the idea there was no looking back.
Baitcasting Reels Under $100
Complete guide on best baitcasting reels under 100
Specifications
Ball bearings: 8
Gear ratio: 7.1:1
Max drag: 18 lbs.
Hand orientation: Ambidextrous
Weight: 0.46 lbs.
The thing that drew me towards this reel the most is the ease of making adjustments for the brakes. When combined with the medium action rod, the performance elevated multiple times. It also worked amazingly with a variety of baits such as crankbaits and jerk baits. The casting was also buttery smooth and absolutely noiseless.
With this reel, I have caught a variety of fish including several bass even bigger ones, crappie, and more. The field testing of this reel in the inshore of Florida also went successful, thanks to the innovative features it is integrated with. Because of the ease of use and low price, this one is considered a great entry-level baitcaster to learn on.
Pros
Wonderful performance
Smooth casting and retrieval
Works well for saltwater fishing
Cons
The casting distance could've been better
Verdict
Abu Gracia has a sweet spot among the best baitcaster reels because of its efficient performance. I would totally recommend these amazing reels to everyone in search of a pocket-friendly choice that works wonders.
Specifications
Ball bearings: 8
Gear ratio: 7.0:1
Max drag: 17 lbs.
Hand orientation: Ambidextrous
Weight: 0.35 lbs.
It was the classiest, lightest, and whole deal that I came across since I started fishing. The 7.0:1 gear never let me down when I had to spend long days fishing. Also coming from one of the best baitcasting reel brands it is also one of the best carbon reels in the market.
After using this reel for a while, I would say that its unique brake system is one of the few you can find anywhere. As I tried it, I think centrifugal and magnetic brakes make it more dependable. The CNC hollow spool gives more control of the lures as compared to traditional spools.
Pros
Ergonomic
Affordable
Amazing overall performance
Cons
The user might face birdnest issue
Verdict
As I have tried and tested numerous baitcasting reels I would say you don't have to be a pro or have years of experience up your sleeve to enjoy fishing with Piscifun Phantom. It is a great option for everyone on a budget, under100$. My experience with every kind of weather like rain, wind, and harsh winter was great.
Specifications
Ball bearings: 12
Gear ratio: 6.6:1, 8.1:1
Max drag: 16.5 lbs.
Hand orientation: Ambidextrous
Weight: 0.43 lbs.
Priced under $60, the Piscifun Spark Pro baitcaster offers a redefined and sheer smoothness. Luckily I experienced little to no backlash, in fact, the reel was quite stable which is because of the double-shaft supported line wind. I tried this reel for smaller fish and it was absolutely worth getting it.
My hands are small and the baitcaster still fits in perfectly, making fishing extremely comfortable for me. However, for a bit heavier catches like spinnerbaits, I tried combining the reel with a heavy rod and the results were still amazing. Despite being a budget choice, it includes a magnetic braking system which made adjustments super convenient.
Pros
Lightweight and comfortable
Amazing magnetic braking system
Reasonable
40% increased stability
Cons
Relatively lesser spool capacity
Verdict
The Piscifun Spark Pro Baitcasting Reel makes it to our list of best budget baitcasting reels because of its low price yet superb features. This could be an ideal choice for new learners who need highly functional gear which doesn't cost them an arm and a leg.
Specifications
Ball bearings: 11
Gear ratio: 7.1:1
Max drag: 17.6 lbs.
Hand orientation: Ambidextrous
Weight: 0.48 lbs.
RUNCL Baiting Reel Merced comes within a budget-friendly range but also has a great frame and high-end performance. I liked its smooth functioning because of the 10+1 bearing system and magnetic brak system. The micro-precision adjusting brake system gave me fine-tune casts and helped me avoid bird nests during windy days.
As I tested this reel I enjoyed the enhanced 20% drag due to the 4 carbon fiber washers. For me, it was lightweight due to its 2-tone Aluminum spool and I can use it the whole day without getting tired. This reel offers high accuracy when it comes to casting at a distance of 80-90 ft. My favorite feature was the ergonomic handle that makes it a good bait caster even for beginner anglers with affordable options under $30.
Pros
Amplified drag
High accuracy under 100 ft.
Efficient bearing system
Cons
Might backlash
Poor spool knob
Verdict
While using this reel, I realized it is a great option and the best beginners baitcaster as well as experienced, especially from the price point of view. Although there could be some problems such as backlash, frame quality, etc. In my view, it can cast as far as many high-end and pricey reels.
Buying Guide For Best Baitcasters
There are a lot of misinterpretations when it comes to baitcasting reels. Starting the learning process is also not as complicated as people think and for someone who is into fishing, a baitcasting reel can give you more space to try different techniques. This baitcaster reel review will solve all your queries and help you get the best baitcasting reels for fishing.
Related guide: Best Baitcaster Combo
1. Rounded vs. Low Profile Baitcasting Reels
Best round baitcaster reels holds more lines, is better for heavier lines, and is more appropriate for larger lures. It is usually preferred by anglers or people who go for heavier lines but have complicated handling. Whereas the low profile is preferred compared to the right profile. It is better for palming, more comfortable for wrist action, and ergonomic. It gives you more control while casting. Learn Baitcaster reel sizes
2. Baitcaster vs Spinning Reel
While both baitcasting vs spinning reels can be used by beginners as well as professionals. Spinning reels are relatively more user-friendly. For baitcasting reels, the spool revolves and turns as you cast, resulting in incredible casting distances with heavier lures. Whereas, because of the fixed spool on spinning reels, you get a lower casting distance. Baitcasters also ensure excellent accuracy especially when you target a distant area. All in all, it mostly depends on your skill set and what you are aiming to catch.
Also, check Best Spincast Reels if you are a complete beginner.
3. Gear Ratio
The baitcaster gear ratio plays a vital role in fishing since it determines the number of times the rotor will complete a rotation around the spool. For example, a baitcasting reel with a 7.1:1 gear ratio will take 7.1 turns in one complete crank around the spool. Therefore, a lower gear ratio will result in a lesser revolution and a higher gear ratio will have more.
A higher gear ratio directly results in faster retrieval and offers enhances versatility. 6.4:1 is considered a medium choice for gear ratio which is easy to use in different situations.
4. Types of Baits
Have you ever wondered what is the best bait to use with your baitcasting reel? There are several types of bait used for catching different fish. Make sure to understand the difference between them and choose one according to your fishing needs:
4.1 Swimbaits
These are versatile baits and are widely used for catching numerous predatory species such as pike, larger panfish, bass, striper, pickerel, and more. Made out of plastic, swimbaits mimic the look of a baitfish.
4.2 Jerkbaits
It offers a slender, long body and is shaped like a minnow which is a small fish. These baits are highly effective in luring fish all around the year. Because of the amazing control that you can have over jerk baits, these can be used in fast, slow, deep, and shallow water to catch bass.
4.3 Crankbaits
Crankbaits are generally hard-bodied fishing lures and imitate the swimming look of crayfish or baitfish etc. Because of the flat lip present on the front of this bait, these stay underwater for a longer time while providing you the complete control.
5. Material and Durability
The material used in the manufacturing of the baitcasting reel parts will decide its quality. Baitcasting reels are made up of different materials depending on the market demand, durability, features, weight, etc.
The main two options usually available are Aluminum and Graphite. Both may vary in quality, sturdiness, and price. For instance, Aluminum is a bit expensive but is more durable. While graphite is more economical.
A low-quality reel that won't last more than a season is almost useless especially if you are a pro or someone experienced. Durability is linked with the building material. The durability and sturdiness of a baitcasting reel allow you to manage the pressure while dealing with bigger fish.
6. Ball Bearings
The ball-bearing game must be strong when it comes to the baitcasting reels Some high-end reels don't have too many ball bearings in them but few with quality. Whereas, reels having about 10 bearings in them may still come with compromised quality. If only some ball bearings are used in a reel but are made of premium quality then it is fine.
Moreover, if the quality is the same, a higher bearing count will be better. Bearing count holds more importance than you think. Quality matters more than quantity. A high-end option will typically have only one bearing for the spool than others in the innards.
7. Braking System
The braking system is essential for controlling the speed of rotation of the spool while casting. Otherwise, the backlash will never allow you to smoothly do the job without a baitcaster birds nest. But with the latest technology equipped with reels, the braking system reduces this issue a great deal.
The magnetic ones lower the speed of the spool and you have control. In this, centrifugal friction is used and pins are pushed externally to control it. There are reels with two kinds of braking systems depending on the preference of the user.
To learn how to adjust brakes accurately, watch this guide:
8. Comfort
Nothing more is frustrating and ruins your experience than using a baitcasting rod and reel that's not only uncomfortable to use but a mess to handle. The building material matters a lot when it comes to the comfort of the reel.
For instance, to reduce the reel's weight, the spool is drilled. The soft rubber knobs make them easier to handle. People with a left or right hand can both use baitcasting reels. Although there are also separate models able for both left and right-handed people.
Also read our detailed guide on Best Baitcasting Rods
FAQs – Best Baitcasting Reels
Here are some of the frequently asked asked we came across while writing baitcaster reel reviews.
Q. Are bait casting reels suitable for beginners?
It may vary from person to person. Anglers often prefer spin casting or spinning reels. As these are a bit uncomplicated to handle, try various techniques and gain experience before moving onto different levels and using baitcasting reels.
Although it might still take some time to use a baitcasting reel for effortless handling of the reel. For someone with zero experience and no idea about fishing directly, trying the baitcasting reel can be quite tricky.
Q. What is the best baitcasting reel?
According to our research and experience, the best baitcaster on the market is none other than the SHIMANO Metanium. It is one of Shimano's most premium inventions and hence serves the users with its best features. The powerful max drag of 10 lbs., 3 ball bearings, aluminum cold forge spool, and more make it a great choice for bass fishing in saltwater.
Q. What line is best for baitcasting?
Usually, a low-memory line is preferred for baitcasting. A low-memory line like T-line is easier to handle. Learning the technique is important to prevent backlash. Memory means that the line remembers the spooling up and while unreeling it tangles into a mess. Memory is not an issue for everyone however, baitcasting can turn it into a hassle. Also check out our complete guide on best line for baitcaster reel.
Q. What are the best lures for baitcasting reels?
The kind of lures one should go with depends on different factors. Such as gear ratio, reel size, the genre of fish, etc. But some commonly used lures are swimbaits, jerk baits, crankbaits, and other topwater options.
The weight of the lure is also important, especially for a beginner. For instance, too-light lures can be quite tricky to handle. On the other hand, reel speed matters. For crankbaits, the reel speed should be low while for jigs it must be higher.
Q. Will a baitcasting reel work on a spinning rod?
No, combining a spinning rod you want with your baitcasting reel won't work no matter how good is the quality. The baitcasting reel needs to be paired with the best baitcaster rod as it has a special reel spot for it.
Similarly, spinning rods are only suitable for spinning reels. Baitcaster and spinning rod are a mismatch because of the differences in line guides, reel directions, rod action, rod rings, casting distance, and more. You can check our guide on casting vs spinning rods for more clarity.
Conclusion
If you are someone who looks forward to taking their fishing experience to the next level, then the best baitcasting reel is just a game-changer for you. For that, you should look no further than SHIMANO Metanium. Just keep in mind that it might take some time to learn the proper use and different techniques. But trust the process because once you are done there will be no looking back.