Backlashes not only interrupt smooth fishing but make the entire experience extremely frustrating for the angler. The foremost reason why it happens is when you are in a rush to catch the trophy fish, you forget about the Best Anti Backlash Baitcast Reel.
Here we refer to the timely thumbing of the spool. Even if you miss thumbing it by seconds, the spool with start rotating manically, resulting in line overrun. This will leave you with the worst line tangling. That is when you need the best anti backlash baitcaster for beginners such as Abu Garcia Pro Max Reel
Backlashes are highly common in baitcaster reels therefore, some newer models now come with an anti backlash system. Some models include other indirect features that make them the best no thumb baitcaster.
Based on our testing and research, overall best anti backlash baitcast reel is the Daiwa Tatula SV. It offers superb anti backlash as well as spool tension adjustments, resulting in no backlashes. As a cherry on top, it comes at an incredibly affordable price point.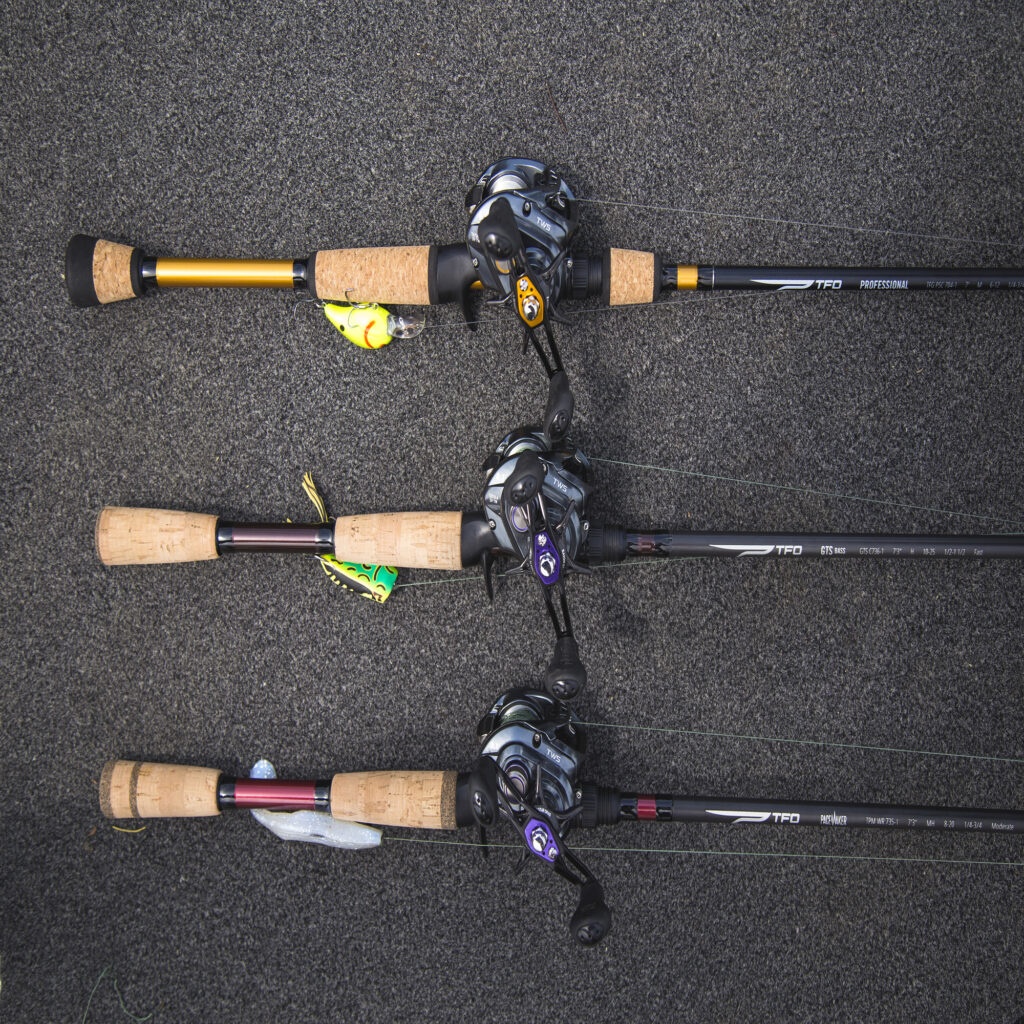 Find out more about amazing no backlash baitcaster reels in our expert guide.
8 Best Anti Backlash Baitcast Reels in 2023
1. Daiwa Tatula SV – Best For Casting Distance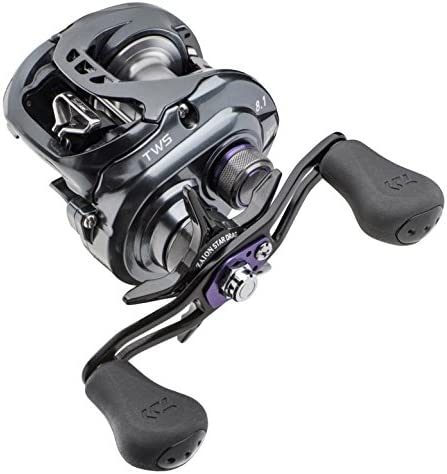 Specifications
Gear Ratio: 6.3:1, 7.3:1, 8.1:1
Max Drag: 13.2 lbs.
Hand Orientation: Right
Weight: 0.55 lbs.
Priced highter than the Abu Garcia Black Max, the highlight feature of this baitcast reel is its T-Wing System (TWS). This technological breakthrough is responsible for numerous things. For example, it significantly reduces line friction and enhances the casting distance.
It comes in three different gear ratios to choose from. One of our angler members opted for the 8.1:1 gear ratio and paired it with the Dobyns Fury 733c rod. For the line, she chose the 20 lbs. braided Sufix 832 along with a 12 lbs. fluoro leader.
After using the 5-in. weightless Senko Texas rig, we achieved an incredible casting distance of 29 yds. Despite longer distances and heavy gear ratio, there was no backlash at all. The angler managed to pull out redfish, catfish, and largemouth bass.
Pros
Advanced T-Wing System
Solid power for big species
Smooth cast
Cons
Not available in left-hand retrieve
Verdict
Daiwa Tatula SV is overall the best anti backlash baitcast reel, and comes with high-end TWS technology for superior performance. Moreover, it enables the anglers to achieve better accuracy during windy conditions.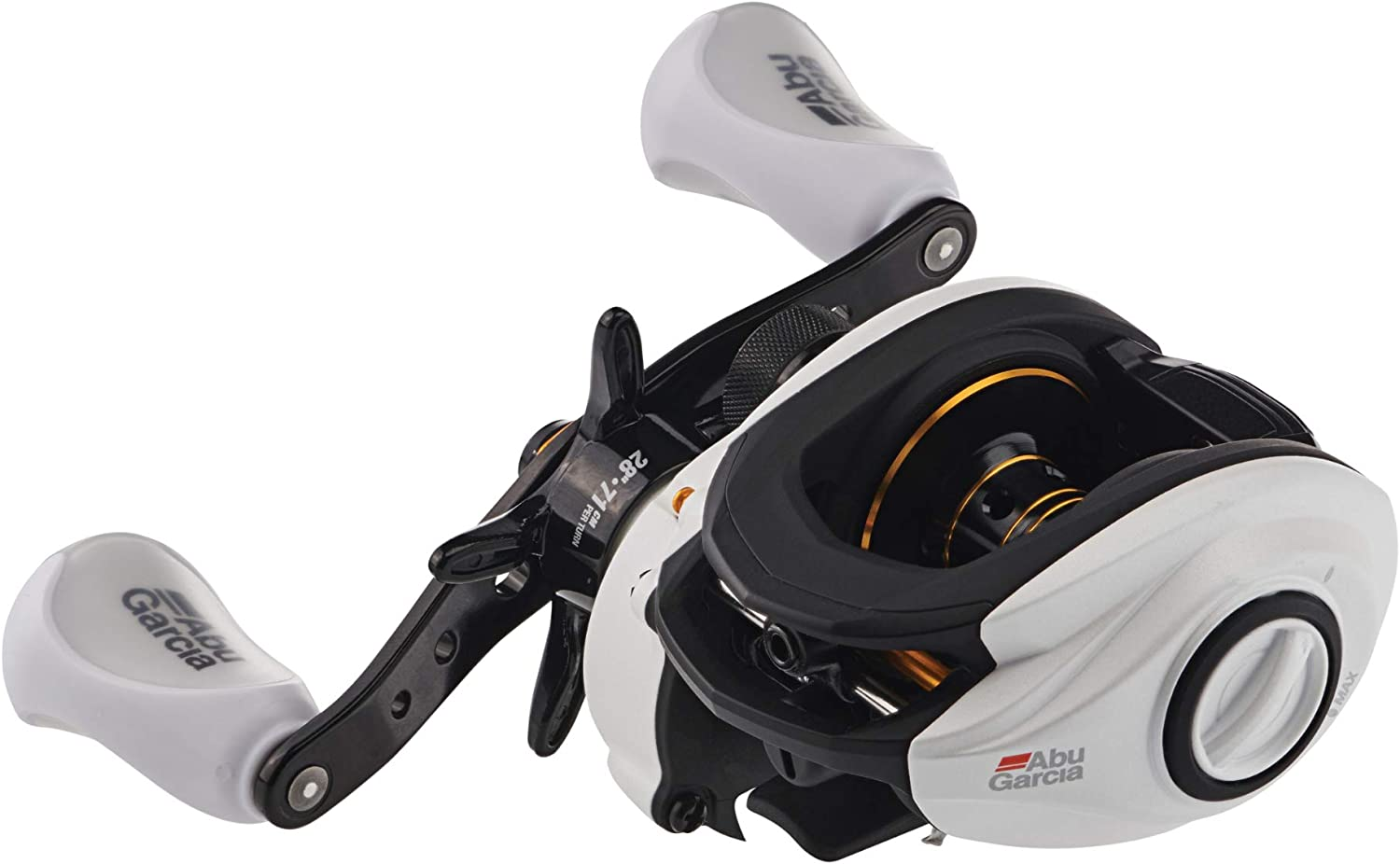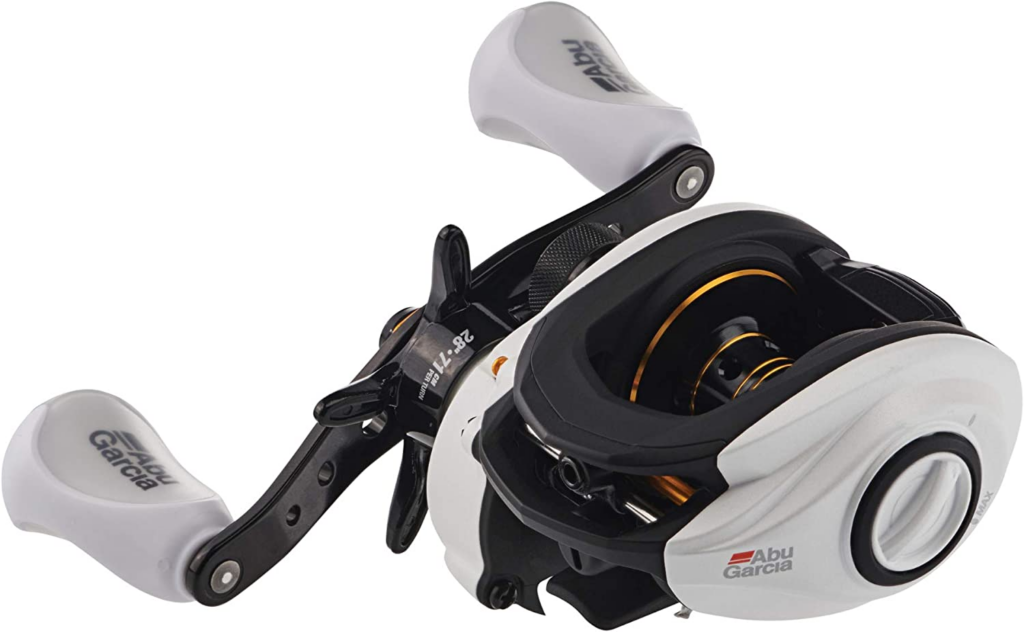 Specifications
Gear Ratio: 7.1:1
Max Drag: 15 lbs.
Hand Orientation: Ambidextrous
Weight: 0.8 lbs.
Beginners are highly prone to backlashes which interrupt their learning process. Therefore, they are always in the dire need of baitcaster that won't backlash. That is where Abu Garcia Pro Max Reel comes into action, as it's the best anti backlash baitcaster for beginners . It's as good as the Shimano SLX DC and eliminates the frustration of backlashes forever.
To test this reel, we paired it with a 6'6" rod. It was a great combination and the reel cast more than a mile effortlessly. In the first cast, the fisher was able to hook a 2 lbs. bass. The team also tested the casting distance with 1/2 oz jerkbait and 3/8 oz crankbait, it still landed a mile away.
The adjustment mechanism is extremely convenient, especially for rookies. All you had to do was turn the dial and brake settings would change. The MagTrax braking system is indeed one of the most efficient ones. Though it is slightly heavier but works amazingly.
Pros
Easy to adjust brakes
Affordable
Superb performance
Cons
Not well-suited for saltwater
A bit bulky
Verdict
The Abu Garcia baitcasting reel works as a powerhouse and the best anti backlash baitcaster for beginners who have just stepped into the world of fishing. 
Specifications
Gear Ratio: 6.4:1
Max Drag: 18 lbs.
Hand Orientation: Ambidextrous
Weight: 0.6 lbs.
Offering a great balance between power and weight, the Black Max reel from Abu Garcia is our winner. The feature that makes it stand out among the competitors is its anti backlash adjustments. Moreover, you can also adjust the spool tension for better control while fishing.
Its 6.4:1 gear ratio and 18 lbs. of max drag provide enough power to catch a wide range of species. We tested this reel with the 6'6″ Abu Vengeance rod and it cast like a charm. I caught numerous light bass measuring between 3 lbs. to 5 lbs. The incredibly effective MagTrax brake system avoided backlash every time I used the reel.
Our team also tried it with a longer and heavier rod, the casting range was magnificent and manageable. Our field testing lasted almost 6 months and there was no single issue with this reel except that it was sometimes noisy.
Pros
Adjustable anti backlash
Works well with various baits
Suitable for heavy species
Cons
Verdict
Overall, this Abu Garcia anti backlash reel is indeed the best for the price. Forget worrying about backlashes and pay all attention to grabbing the desired fish with this baitcaster.
Specifications
Gear Ratio: 7.4:1, 8.5:1
Max Drag: 11 lbs.
Hand Orientation: Ambidextrous
Weight: 0.78 lbs.
Designed to fit various fishing needs with zero backlashes, this is one of the favorite reels for many anglers. It differs from our winner Abu Garcia reel in terms of advanced features. Though it is pricer than most of its competitors, we love it in every way.
The Digital Control braking system is probably the reason behind its hefty price tag. This braking system avoids backlashes by monitoring the spool speed at 1000 per second using a microcomputer.
This thing is unbelievably smooth when paired with the compatible rod. Our member tried the St. Croix Legend Extreme medium-heavy rod. The reel cast a country mile with no backlash similar to the Abu Garcia Black Max and easily caught largemouth basses.
Regardless of the casting distance and line you use, this reel won't cause bird's nests or backlashes. For better results, make sure to adjust the external brakes properly by tightening them.
Pros
Hagane body construction
Ambidextrous
Efficient digital control braking system
Cons
Verdict
Overall, the Shimano Metanium DC is the best baitcaster that doesn't backlash and an ideal option that one could invest in for a memorable experience. If you want a cheaper alternative, you can check Daiwa Tatula SV.
Specifications
Gear Ratio: 7.4:1
Max Drag: 11 lbs.
Hand Orientation: Right
Weight: 0.48 lbs.
Shamino has been one of the leading companies that make quality reels for users. The Curado DC holds a sweet spot for a majority of anglers due to all the right reasons. It is loaded with advanced features such as Super Free Spool, Intelligent Digital Control braking system, and more.
One of our crew members suggested the 7'5" Phenix Bass Recon Elite rod with it and both made a deadly combo. With smooth casting and amazing accuracy like the Shamino Metanium, this reel also promises a backlash-free experience in lesser price.
The baitcaster worked amazingly in catching basses of varying sizes. From largemouth bass to striped bass, 45 lbs. bass to 5 lbs. bass, this reel managed them all. The key to successful fishing was the I-DC4 braking system.
Pros
Adjustable cross carbon drag
CI4+ lightweight technology
Smooth retrieve by Micro Module Gear System
Cons
Only in right hand orientation
Verdict
As a whole, this Shimano anti backlash reel is among the top performers for freshwater fishing at a good price point.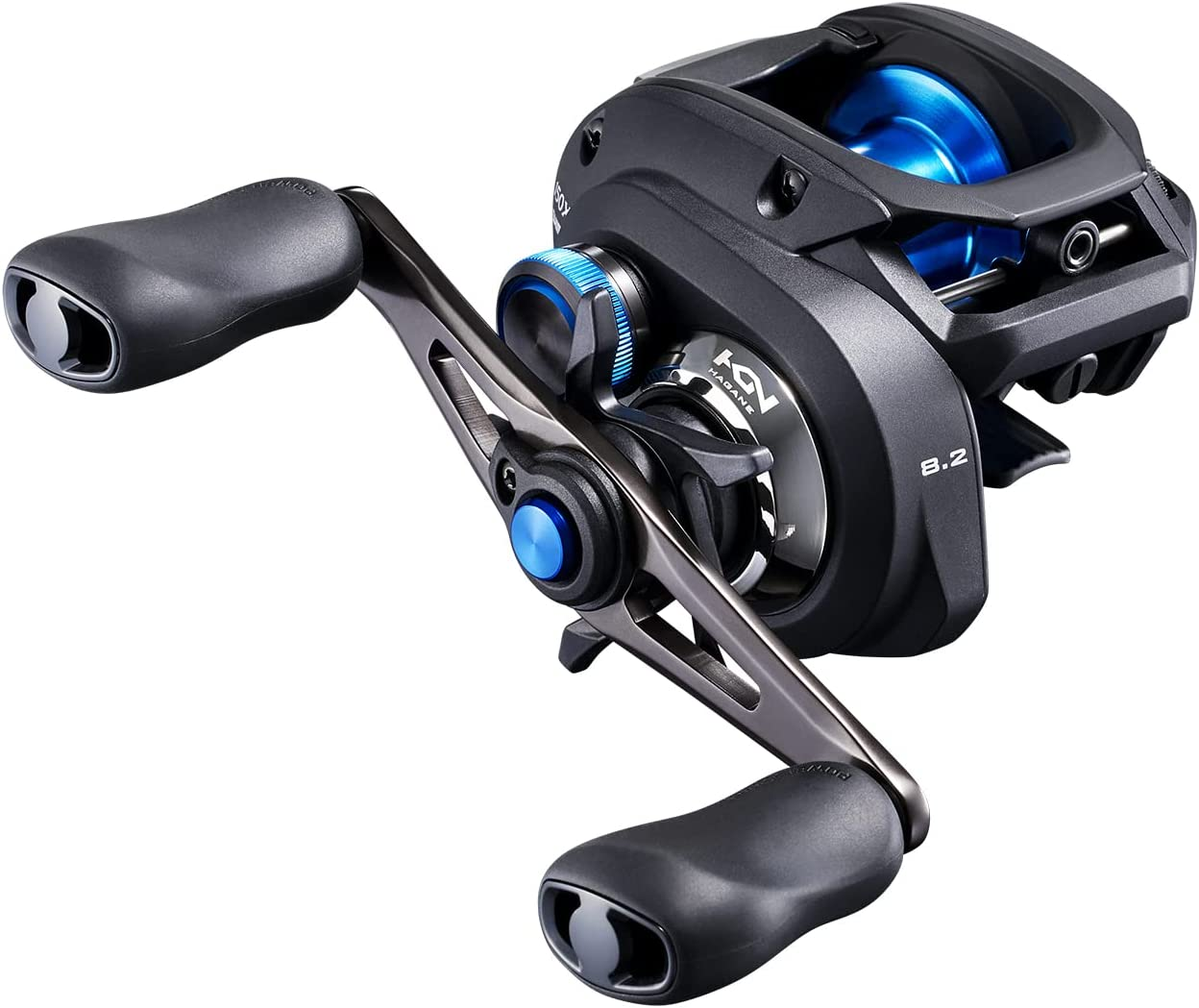 Specifications
Gear Ratio: 6.3:1, 7.2:1, 8.2:1
Max Drag: 11 lbs.
Hand Orientation: Ambidextrous
Weight: 0.47 lbs.
Just like other Shimano models, it also includes top-notch features which take the fishing experience to new heights. For instance, the Hagane body, S3D spool, SVS Infinity brake system technology, and more.
The entire team was stunned by the impeccable performance of this reel with the 7 ft. medium-heavy rod. The fisher paired it with the 20 lbs. braided line and enjoyed the marvelous casting. We caught redfish, fluke, bass, striper, and sea trout without any inconvenience.
There was no backlash at all, thanks to Shamino's newest SVS Infinity technology for the braking system. It not only enables easy manageability but also provides controls over spool speed to avoid backlashes.
Pros
Reduced spool vibration
Durable build quality
Lightweight and comfortable
Cons
Verdict
SHIMANO SLX DC is indeed the best baitcaster for no backlash due to SVS Infinity technology. Because of such advanced features, its downside like small spool size can easily be overlooked.
Specifications
Gear Ratio: 7.3:1
Max Drag: 12 lbs.
Hand Orientation: Right
Weight: 0.42 lbs.
Are you in search of the best anti backlash baitcast reel that doesn't cost you a fortune and performs like our winner product? If so, this one can be an amazing choice. Boasting a right hand retrieve, stainless steel ball bearings with corrosion resistance, and adjustable magnetic braking system, this one offers brilliant performance.
For the best calibrations, our fellow angler turned down the brake settings cast after cast. He finally achieved the best results when brake was set at 5.5. We chose the 6'6" Fenwick rod and caught a couple of Northern Pike and bass.
The reel casts smoothly when set appropriately. Moreover, the magentic braking system ensures controlled spool speed for backlash reduction. It is worth adding the comfortable aluminum grip is highly durable and ergonomic.
Pros
Suitable for saltwater
Ideal for beginners as well as experts
Excellent grip
Cons
Unavailable in left hand orientation
Verdict
Finding the best no backlash baitcaster under a budget now made easy with the competent Pflueger President XT.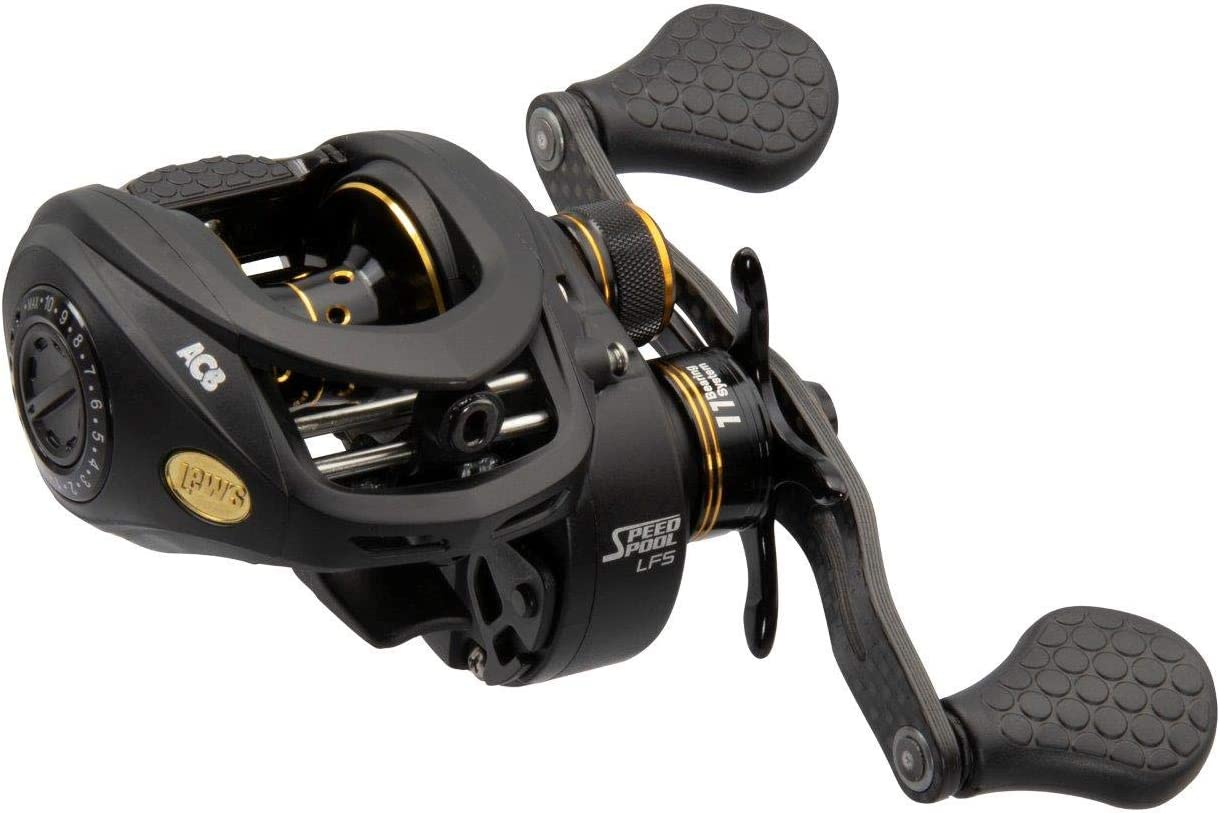 Specifications
Gear Ratio: 6.8:1
Max Drag: 20 lbs.
Hand Orientation: Ambidextrous
Weight: 0.58 lbs.
What else could be better than a baitcasting reel that does the job right, is comfortable, and has zero backlashes? The Lew's Speed Spool reel offers a variety of advanced features for a very reasonable price value as compared to the AG Black Max and Shimano Metanium.
Our angler friend coupled the reel with a 6' Ugly Stik GX2 and the combo was superb. Using the 12 lbs. test line, the casting was pretty far with a weightless Senko. We didn't aim for hefty species but, these tackled 5-8 pounders like a charm.
Unlike most reels, it comes with an Adjustable Centrifugal Braking system (ACB). There are 6 pins located externally for convenient adjustability. When under load, this reel could be slightly noisy, though it can be a tradeoff for all the other amazing features.
Pros
Amazing drag power
Casts incredibly
High speed gears
Cons
Verdict
From superb durability to high-end performance, LEW'S Fishing Tournament Pro reel is the best baitcaster reel for money and not short of any feature. It can fit the needs of a beginner as well as an expert hence, the best anti backlash bait cast reel for the value.
Learn More About Baitcasting Reels
Buyer's Guide
It won't be wise to spend your hard-earned money on something that doesn't fulfill the requirements. That said if you want to get the best anti backlash baitcast reel, make sure to consider the following important factors.
1. Braking System
An efficient baitcaster braking system plays a significant role in the overall baitcaster performance. There are two types of braking systems i.e., centrifugal and magnetic. Both work to keep the spool speed under control even if you don't thumb it timely.
Centrifugal braking system utilizes the pins to slow down the spool speed and prevent backlash. Whereas, the magnetic system works with a similar principle but has magnets instead of pins for controlling the speed.
2. Drag System
Usually, the best anti backlash baitcaster reels come with a carbon fiber drag. These are exceptionally durable and provide all the power needed to reel in a big fish. This drag system excels the line control especially when it is on the verge of breaking.
The carbon fiber drag system comes in graphite or ceramic. Both are adjustable, allowing you great control over pressure on the spool.
3. Ball Bearings
A lot of people think about having more ball bearings in Best Baitcasting Reels and ignore the quality. Even if the reel has a greater number, it won't be helpful if the quality is poor. It is suggested to look for stainless steel ball bearings. If you are a saltwater angler, the bearing should be double-shielded and have an anti-corrosion coating.
FAQs
1. Which braking system will work best with my no backlash baitcaster reel?
Be it a magnetic or centrifugal braking system, both are equally efficient when it comes to preventing backlashes. 
2. What is the best line for a baitcasting reel?
Typically, a braided line works tremendously well for baitcasting reels. These offer incredible strength and enhance the overall experience because of no virtual memory. While mono lines also result in superb casting, their memory could create some issues. 
Conclusion
The easiest way to prevent the annoyance of backlashes is to invest in the best anti backlash baitcast reel. You will find numerous choices in the market but the key to getting the right one is choosing carefully based on the important factors.
Out of some top choices, our team of experts found Daiwa Tatula SV as the best anti backlash baitcast reel. From the TWS technology (long casting with minimal backlash) to smooth drag, it offers so much more for a reasonable price.
Some Related Guides: