As an angler, you must know how it feels when you reel casts impressively. A variety of factors play a crucial role in impacting the overall casting distance. Luckily, manufacturers have now rolled out the best baitcaster for casting distance for all the fishers out there.
Considering all the aforementioned factors, I have shortlisted the following best long casting baitcasting reels. My top three recommendations however include Shimano Aldebaran Mgl, CURADO K, and Shimano Antares DC. Find out amazing details about these reels below.
While these reels do perform well for casting like a champ, there are a couple of things that you should keep in mind as well. A baitcaster won't only work up to the mark unless you set up a good reel and rod combo. Additionally, it is also important to choose the right line and lures for the best performance.
6 Best Baitcasting Reels For Casting Distance:
Specifications
Gear Ratio: 6.5:1, 7.4:1
Max Drag: 10 lbs.
Hand Orientation: Ambidextrous
Weight: 0.3 lbs
When it comes to buying the best long distance baitcasting reel, Shimano Aldebaran doesn't disappoint. Extremely light in weight, this reel is easy to manage. I coupled it with a 7' Phenix Recon Elite rod and used 15 lbs. braided line along with a 6 lbs. fluoro leader.
The combo was superb and I could throw 1/8 oz. jigs at amazing distances and caught multiple species. These include some of my favorites i.e., small crappie, smallmouth bass, and a few carps.
You won't find any downside to this reel except for its hefty price tag. If budget is not your issue, this is indeed overall best baitcaster reel for casting distance. However, you can check a cheaper alternative with reasonable performance i.e., Abu Garcia Pro Max & Max Pro Baitcast Reel.
Pros
Robust Hagane body
Wider drag settings
X-Ship technology ensures smooth performance
Cons
Verdict
The reel promises a 20% improved casting distance than predecessor models. That said, if you set it up rightly, you can get the desired results.
2. CURADO K – Best With Light Lures
Specifications
Gear Ratio: 7.4:1, 8.5:1
Max Drag: 11 lbs.
Hand Orientation: Ambidextrous
Weight: 0.47 lbs.
Engineered to last long, this reel is known for its impeccable durability as well as great casting capabilities. Because of its high versatility, I was able to use this reel with multiple rods. However, I observed the most amazing casting distance when paired with a 7' Abu Garcia medium action rod.
I caught Northern Pike, Largemouth bass, and some lake trout using the 3/8 oz. lures. Needless to say, the combo cast a country mile phenomenally. The spool control and braking system were super efficient and easy to manage.
Despite an efficient braking system, I encountered some backlash issues while casting in windy conditions. However, I overcame the issue by simply adjusting the brakes and drag.
Pros
Greater line capacity
Smooth retrieve with MicroModule Gear
Brakes are easy to adjust
Cons
Might cause some backlashes
Verdict
CURADO K promises superb endurance and castability, and one of the best baitcaster for light lures If you want to achieve longer casting distances.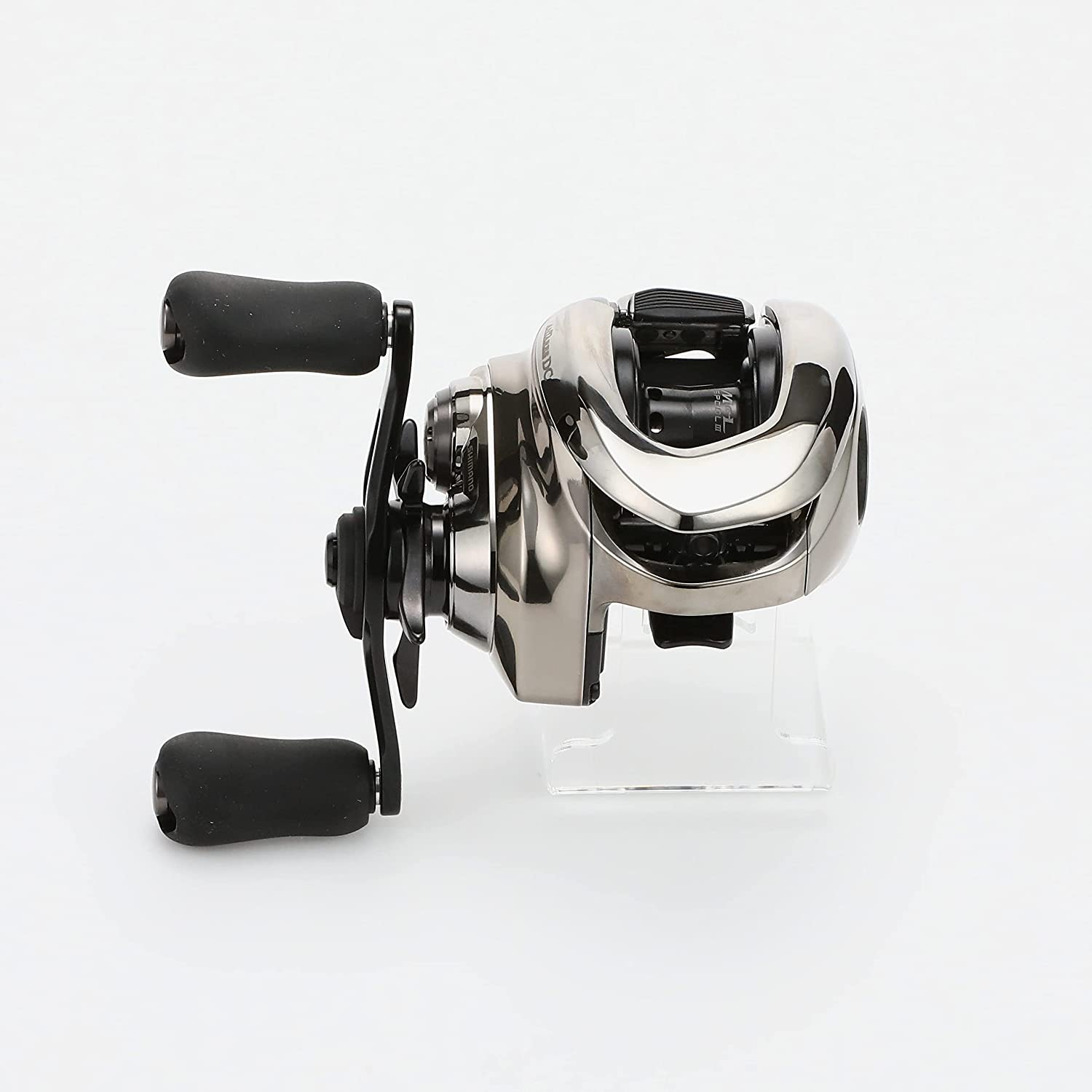 Specifications
Gear Ratio: 5.6:1
Max Drag: 11 lbs.
Hand Orientation: Right Hand
Weight: 0.48 lbs
Shimano always has something for its customers and this reel is no different. It comes with a stack of advanced technologies and offers amazing casting distances even in saltwater. For the setup, I chose a 7'4" St. Croix Mojo rod with medium power and moderate action.
I spooled the reel with 16 lbs. fluoro line and threw 1/2 oz. jig heads flat into the water. The casting was quiet, smooth, and exceptionally long. This combo allowed me to catch numerous largemouth bass in Beaver lake and multiple smallmouth bass in Lake Casitas.
Speaking of the drawbacks, this reel costs you a fortune i.e., over $500. Considering the performance, the price would be worth it. However, if you want budget choices, check out the Abu Garcia Pro Max & Max Pro Baitcast Reel.
Pros
Superb 4×8 braking system
S3D balanced spool
Suitable for saltwater fishing
Cons
Verdict
All in all, the Shimano Antares 21 is one of the best saltwater baitcaster for casting distances with the smoothest performance.
Specifications
Gear Ratio: 7.3:1
Max Drag: 13.2 lbs.
Hand Orientation: Left Hand
Weight: 0.45 lbs
Being a nitpicky person for reels, I have had a hard time choosing the right one. This model from Daiwa has impressed me for all the right reasons. After pairing it with a 7' Daiwa Trigger rod and spooling the reel with 30 lbs. braided line.
The casting distance was great however, these were even better when I replaced the line with 12 lbs. fluoro. I have used numerous high-end reels but this one cast way better than all of them i.e., 5 to 10 yds. farther.
Unfortunately, this reel couldn't withstand the rigors of saltwater despite lots of maintenance and care. Later I figured out that its mechanical parts lack sealed parts. If you are a saltwater fisher, you can try the Shimano Antares DC.
Pros
Effortlessly smooth retrieve
Magforce braking system avoids backlashes
Free spool ensures tremendous casting distance
Cons
Verdict
Designed to provide the most amazing casting distances with enhanced accuracy and lesser effort, the Daiwa Feugo is indeed an ideal choice.
Specifications
Gear Ratio: 4.1:1
Max Drag: 15 lbs.
Hand Orientation: Right
Weight: 1.2 lbs
Round baitcasters are always an absolute choice for achieving exceptional casting distances. While the 6500 CT has been recorded for casting at 305 yds. back in 2004, I got an amazing casting too. To test its potential, I went with an 11' medium-heavy rod by Lamiglas.
For the line, I spooled the reel with 50 lbs. Power Pro braided line. During the initial tries, I could 6 oz. lure to 125 to 150 yds. However, as I adjusted the brakes and drag system, the longest casting distance I achieved was over 175 yds.
Round baitcasters are relatively heavier than the low-profile ones which I see as a trade-off for the mind-blowing casting distance it offers.
Pros
Offers exceptionally long casting distances
Works well with light and heavy lures
Large spool
Cons
Verdict
The Abu Garcia 6500 CT is indeed the best baitcaster for casting distance that offers tremendous castability.
Specifications
Gear Ratio: 7.1:1
Max Drag: 18 lbs.
Hand Orientation: Ambidextrous
Weight: 0.46 lbs
Even though it is a budget choice, I had high hopes for this reel. I mounted the Abu Garcia Max Pro on my 7' Shakespear rod with medium-heavy action. The line I used was 14 lbs. mono and it cast like a dream. I also tested it with a 6'6" MH rod and the casting was still superb.
My favorite lures with this setup were 1/2 oz. and 3/8 oz. jerk baits because it casts miles away effortlessly. Using this affordable combo, I easily caught striped bass, Northern pike, croaker, red drum, and speckled trout.
Durability is the only stumbling block of this reel. However, it is still an excellent choice for new anglers looking for the best baitcaster for casting distance at an affordable price.
Pros
Smooth drag
Effortless casting
MagTrax brake system
Cons
Verdict
If you are a beginner and don't want to invest in over-priced reels. This model from Abu Garcia is surely the best baitcaster for casting distance under a budget.
Related Guides on baitcaster reels:
Buying Guide
Unlike regular reels, the best baitcaster for casting distance requires a unique set of key considerations. Let's check out:
1. Rod
As a general rule, longer baitcasting rods casts farther distances. That said, for a maximized casting distance, you should pick a longer rod. However, for lighter lures weighing around 1/8 oz., shorters rods would work fine. Whereas, for relatively heavier lures, rods over 7'6" would work the best. Speaking of power and action, you will get an ideal distance with a longer rod featuring medium power and moderate action.
Check out out our extensive guides on baitcasting rods
2. Fishing Line
The thinner the line, the farther it can propel your lure. A 12 lbs. line would cast a lot farther than a 20 lbs. line using the same bait. Make sure to not go too light that the lien breaks off. Choose one with less diameter but high sturdiness.
3. Lure
The weight of the lure is directly related to the casting distance. That said, a heavier lure has better capabilities for going farther distances than a lighter one. For example, a 1/8 oz. lure would be difficult to throw at a longer distance as compared to the 1/2 oz. lure.
4. Sinker
These are the most overlooked factor when it comes to buying the best baitcast for casting distance. Since these sinkers help enhance the casting distance, choose the one that can withstand strong water currents. Generally, the aerodynamic sinkers should be your priority. The best sinker designs to choose from include pyramid, bank, flat bank, halls, storm, and grip.
FAQs
1. How to maximise casting distance with a baitcast reel?
For maximizing the casting distance, three things go hand in hand i.e., a good baitcaster, right rod, and line. If the three products are in sync, you will get the best results. Depending on your desired fishing type, choose the reel, rod, and fishing line combo. Generally, a reel with a bigger spool, a rod with a longer length, and a lightweight fishing line are preferred.
2. What is the farthest casting baitcaster?
Currently, the Abu Garcia Ambassadeur 6500 CT holds a record for casting the farthest at 305 yds.
3. How far can you cast a baitcaster?
Based on the baitcasting combo and proficiency, the casting distance could vary. However, the expert fishers cast a baitcaster at an average distance of 25 to 30 yds. Some fishers also cast at longer distances but with a compromised accuracy.
Conclusion
Baitcasting is so much fun when you get the maximized casting distance. Achieving this goal isn't a piece of cake, you must choose the right baitcaster for casting distance and have the required skill set. Knowing which baitcaster casts farthest is also important so that you don't get overwhelmed with the wide range of choices.
Make sure to follow the buying guide carefully and you will make no mistakes. The all-time best baitcaster for casting distance according to me is the Shimano Aldebaran Mgl. Though pricey, when paired with the right combo, it casts a country mile like a charm.