Are you stuck at a point where finding the best baitcaster combo for beginners seems like a challenge? It should not anymore. Even if there is a colossal range of choices available, you can determine the ideal fit easily. Make sure to look for the right features that your reel and rod should have for beginners.
These include ease of use, adjustable and efficient braking system, lightweight, decent drag, and rod length. Though there are several combos designed for beginners sometimes, the reel is not as top-notch as it should be. While beginners can work on an average casting rod as well but should not compromise on the reel.
That said, you are always open to making choices separately for the reel and rod. To save you from the hassle, our team of experts has recommended the best baitcaster combo for beginners. We would call the SHIMANO Curado DC Reel paired with a Fenwick HMG Rod our champion product.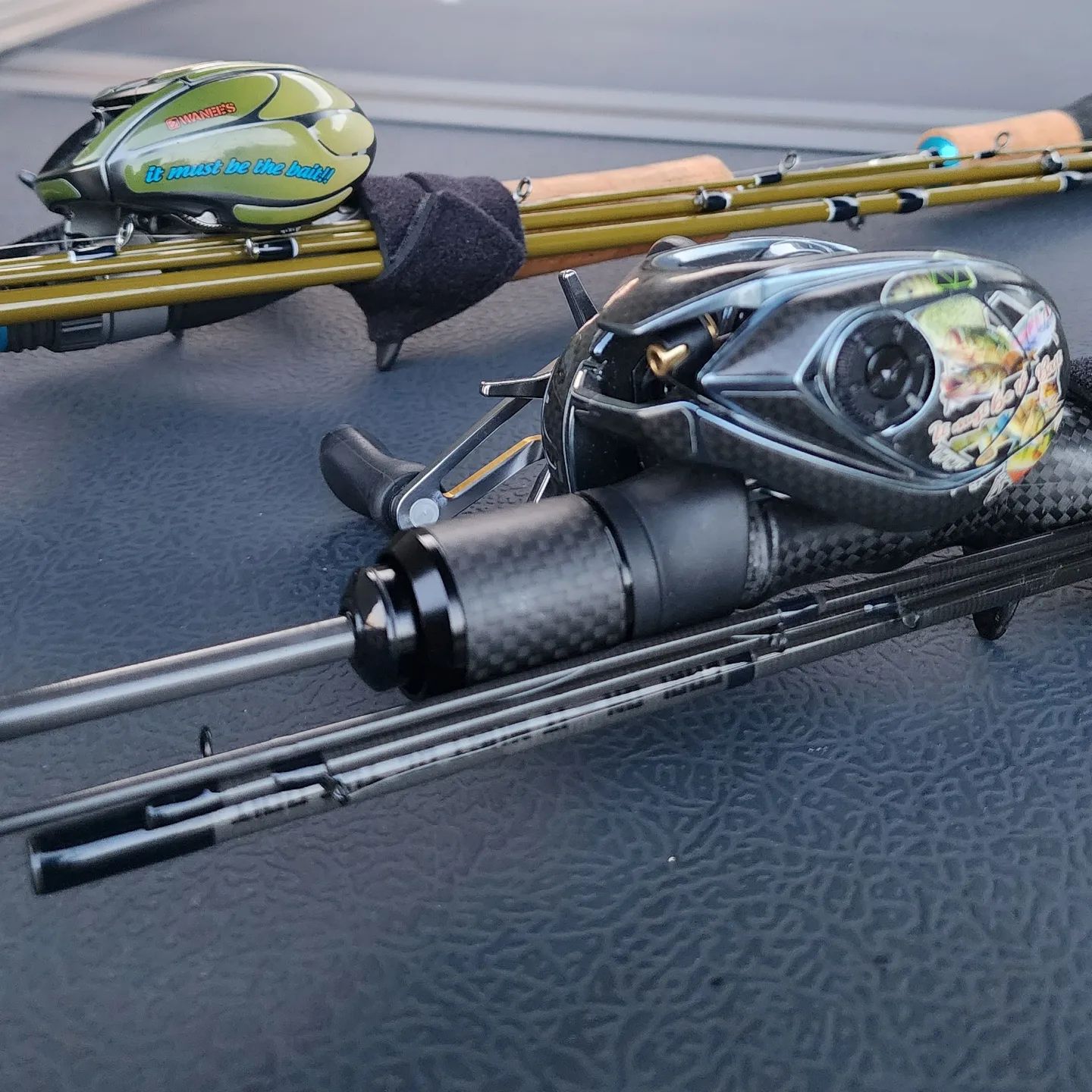 9 Best Baitcaster Combo for Beginners
Providing the right power for various fishing techniques and a decent range of rod lengths, this combo will work for all new learners. Find out more about the best beginner baitcaster combo below.
Specifications
Gear Ratio: 6.2:1
Max Drag: 11 lbs.
Rod Length: 6'6", 7', 7'2", 7'6"
When it comes to exceptional performance and high-end durability, we all will forever hail the Shimano Curado DC. The highlight of the reel is its Intelligent Digital Control braking system (I-DC4). It features an external dial that allows convenient adjustability of the brake for beginners.
On the other hand, the rod ensures uncompromising performance with top-notch durability. The rod and reel combo works great for anyone stepping into the world of baitcasting. Furthermore, with the Cross Carbon Drag, calibrating the reel was made a lot simpler.
We opted for the 6'6" medium-heavy rod and hit the lake using topwater lures. The combo was extremely comfortable to use and we caught a couple of small species. From lake trout to panfish and 3 lbs. crappie, the combo tackled them all.
Pros
Easy to adjust brake and drag
Lightweight and comfortable
No line tangling issues
Cons
Not available in left-hand retrieve
Verdict
The Shimano Curado DC reel and Fenwick rod have our hearts when it comes to the best casting combo for beginners. The comfortable grip of the reel and rod made it easier for our new angler to practice without any strains.
Specifications
Gear Ratio: 6.5:1
Max Drag: 17 lbs.
Rod Length: 6', 6'6", 7'
If you want a performance similar to our winner combo but at a lot lesser price, the KastKing Crixus combo would be it. With the different lengths, you can create three different combos with this rod and reel. The 6.5:1 gear ratio would be easy to manage for beginners.
We tried this combo with a 6'6" rod length in the bank lakes in Columbia. The casting distance and accuracy are unbelievably impressive, though slightly less than the DC. Our team member used this combo as their first baitcaster and was able to pull out a 9 lbs. smallmouth bass.
The angler also tried multiple lures such as 1/2 oz. and 3/8 oz. crankbaits and jerkbaits. Not only is this combo amazing in performance but comes together in less than 5 minutes. The only issue one could encounter is with the gear ratio in case they need a higher one else, everything is beyond perfect.
Pros
Two-piece rod is highly portable
Brakes reduce backlash
Great spool size
Cons
Verdict
When it comes to buying the best beginner baitcaster combo, nothing can beat the KastKing Crixus that performs exceptionally well and is priced right.
Specifications
Gear Ratio: 6.3:1, 7.2:1, 8.3:1
Max Drag: 12 lbs.
Rod Length: 7'2", 7'4"
Shimano owns our hearts when it comes to baitcasting. Be it for a beginner or an expert, these reels and rods never disappoint. Though it performs like a charm for all beginners, there is a considerable distinction between the Curado DC model. It lacks a Digital braking system and MicroModule gears.
To test this combo, one of our team members chose the 6.3:1 gear ratio and paired it up with a 7'2" rod. It was super easy to bring the combo together. With the magnetic Variable Brake Adjustment (VBS) system, beginners would never experience backlashes with this reel.
As we hit the water in the Hudson River, the reel cast superbly. The distance and accuracy were similar to the DC model and much better than the KastKing Crixus. Using this combo, the fisher managed to reel in various basses including smallmouth, largemouth, and striped ranging between 3 to 8 poundages.
Pros
Compact and comfortable
Smooth retrieve
Casts like premium models
Cons
Verdict
The SLX reel and rod make a lethal combo and don't cost a fortune. When compared to the Shimano DC, the SLX model is a close competitor in terms of performance.
Specifications
Gear Ratio: 5.6:1, 6.8:1, 7.5:1
Max Drag: 15 lbs.
Rod Length: 6'8", 7'0", 7'1", 7'4", 7'6", 7'11"
These two make an incredibly solid combo for the amateurs. You can choose between three different gear ratios and six-rod lengths. No matter what you choose, the duo will result in tremendous casting and manageability.
Since it was for a new angler, we paired the reel with a 6'8" rod for better convenience and spooled it with a 12 lbs. mono line. Needless to say, it cast like a dream with no tangling or bird's nest even at a distance of 15 yds.
The entire crew loved the Speed Lube feature of this reel which we didn't find in the premium Shimano models. It helps with the overall smoothness and makes the reel ideal for every weather condition.
Pros
Buttery smooth operation
High-strength brass gears
Extremely durable rod construction
Cons
Some setups could be slightly noisy
Verdict
Overall, we would highly recommend the Lews Speel Spool and Mojo Bass to beginners. Its faint noises could definitely be a tradeoff for all the amazing features it comes with.
Specifications
Gear Ratio: 7.5:1
Max Drag: 15 lbs.
Rod Length: 7'
Priced a lot higher than Lew's Speed Spool but lesser than our winner Shimano DC reel, we couldn't resist reviewing this combo. It comes with Magnetic Control System (MCS) Braking responsible for avoiding backlashes. These are easy to adjust from the external side of the reel.
The beginner angler from our team loved this combo as it had a slight learning curve. With easy assembly and adjustment, he could cast from 10 to 12 yds. without any inconvenience. At the distance beyond 12 yds. the rod vibration was quite noticeable with impacted the accuracy and overall performance.
Because of the double-shielded stainless steel ball bearings, there were no issues when using this reel in saltwater. We got a couple of panfish and spotted bass with this reel. The drag was pretty smooth, though not as buttery as the Speel Spool model but, does the job well.
Pros
Amazing braking system
Easy to use
Affordable combo
Cons
Notable rod vibration at longer distances
No rod length choices
Verdict
Lew's Mach 2 takes the bow for being the best baitcasting combo for beginners when it comes to saltwater fishing.
Specifications
Gear Ratio: 6.3:1, 7.3:1, 8.1:1
Max Drag: 13.2 lbs.
Rod Length: 7'5"
If you want something as decent as the Shimano DC but at a reduced price point, this model could be the answer. Both the reels have significant differences in terms of features yet operate like a charm for beginners. The T-Wing System is the highlight of Daiwa Tatula reels which allows tremendous casting with accuracy regardless of the windy weather.
With very fewer effort, this model casts a country mile. We chose the 6.3:1 model and were able to throw the line as far as 20 yds. without any issues. The T-Wing system keeps the spool speed under control and prevents line tangling.
Speaking of the overall performance, it is indeed the best baitcaster combo for beginners. The combo works like a dream however, the rod could be a bit longer for young anglers. You can also pair the reel with Dobyns Rods Fury Series as it offers multiple rod lengths and enjoy similar results.
Pros
Incredible casting and accuracy
Efficient Super Duralumin SV spool
Decent spool size for beginners
Cons
No rod length choices
Only for right-handed users
Verdict
All in all, the Daiwa Tatula SV comes with everything a beginner needs in a reel. From an efficient spool to a braking system and easy assembly to accurate casting, this model has it all. When paired with the right rod, it can do wonders.
Specifications
Gear Ratio: 7.1:1
Max Drag: 15 lbs.
Rod Length: 7'
It's always good finding a fairly priced reel combo for your needs. This model from Abu Garcia has an overall great value however, not as great as our champion product. If you want to practice on a decent performer, this ambidextrous combo has all you need.
Our field testing with this combo was more in the freshwater Georgia lakes where it did a fine job. We got superb casting accuracy at 12 yds. which is quite fair for the novices. With the MagTrax braking and disk drag systems, beginners can easily adjust the reel.
It not only saves them from line tangling issues and backlashes but also results in great overall convenience. However, some professional anglers found this combo less forgiving than the Shimano Curado DC. For a higher-end performance, you can check SHIMANO SLX Reel With SLX Rod.
Pros
Comfortable rod and reel grip
Straightforward adjustments
No backlashes
Cons
Verdict
Are you looking for a good Abu Garcia baitcaster combo for beginners? Look no further than this model. It comes with easy-to-use feasibility with decent performance.
Specifications
Gear Ratio: 6.7:1
Max Drag: 18 lbs.
Rod Length: 7'
The best baitcaster combo for beginners under a budget? That's what this product is all about. From EVA grips for max comfort to a corrosion-resistant frame, the Abu Garcia Revo offers overall better features compared to the Abu Garcia Pro Max & Max Pro models.
While it may not match the accuracy and casting distance as that of Shimano DC but still does the job well for its price. According to our fellow angler, the combo was easy to use and the magnetic braking system did reduce backlashes. After loading it with a 30 lbs. braided line, we were concerned about tanling issues.
Luckily, there wasn't a single one instead, we easily reeled in 5 to 10 pounders. Even though it is easy to operate and works fine, there were some durability issues with the rod when used for heavier species. Since beginners focus more on smaller species, the downside can be considered a tradeoff.
Pros
Smooth Carbon Matrix hybrid drag system
Efficient D2 Gear Design
Operates smoothly
Cons
Might corrode in saltwater despite corrosion-resistance
Doubtful rod durability
Verdict
It won't be fair if we didn't call the Abu Garcia Revo the best baitcast combo for beginners under a reasonable price. The combo casts amazingly and is comfortable to use for new learners.
9. Daiwa Fuego CT With Fenwick Eagle – Best Beginner Baitcaster Combo For Saltwater
Specifications
Gear Ratio: 7.3:1
Max Drag: 13.2 lbs.
Rod Length: 6'6", 7'
If you want to flourish your casting skills in saltwater then, none other could be a better choice than Daiwa Fuego CT paired with the Fenwick Eagle rod, it's one of the Best Saltwater Baitcaster Combo in 2023. We also tried this reel with Berkley Lightning Rod and Daiwa Aird-X, the results were great but not as amazing as with the Fenwick.
The other baitcasting reels we tested were unique in their own ways but none matched our champion product. Similarly, though this combo provided us with impressive casting distance with superb accuracy, it couldn't match the performance of Shimano DC.
The inaugural cast with the 12 lbs. fluorocoated P-Line was tremendous with absolutely no backlash. As a result, the angler caught a couple of panfish weighing 2 to 4 lbs. It is the lowest-priced model on our list today but works like a powerhouse for newbies.
Pros
Smooth retrieve and cast
Free-spool ensures longer cast
Magforce braking system
Cons
Verdict
This model performed beyond what everyone in the team expectated, thanks to the advanced braking system, free spool and smooth operation.
Buying Guide – Best Baitcasting Combo For Beginners
Here are a few important considerations that you should always keep in mind when purchasing the best beginner baitcaster combo.
1. Reel
Whether you are investing in a ready-made combo or picking both components separately, here is what a best baitcaster reel should have.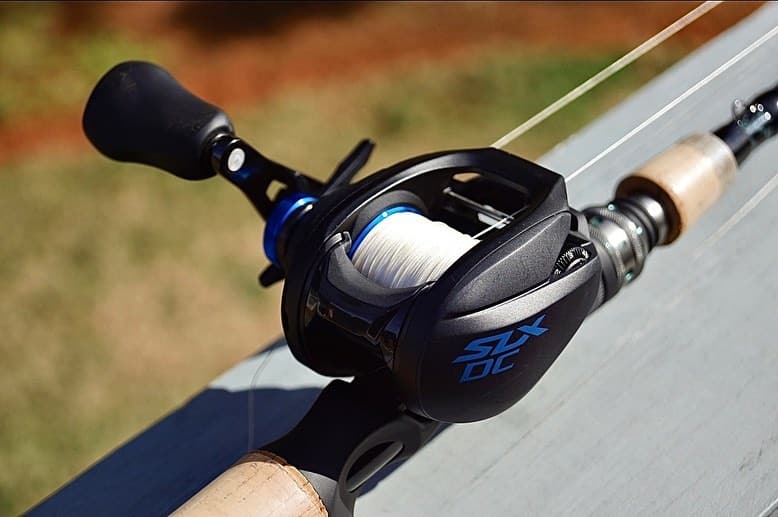 Gear Ratio
It refers to the number of times the spool rotates as you turn the handle completely. Higher gear ratios result in a faster spool speed. The most ideal gear ratios for rookies range between 5.4:1 to 6.2:1.
Braking System
Since beginners are prone to backlashes and bird's nests, they need an efficient and easy-to-adjust braking system in the reel. Two types of braking systems are used in baitcast reels i.e., centrifugal and magnetic. Generally, a magnetic braking system is recommended for beginners because of easier adjustments.
2. Rod
Choosing the right and best baitcasting rod can end up with a deadly baitcasting combo. Look for the following things when you purchase one.
Length
The best overall length of your first baitcasting rod would be 6" for amazing accuracy and easy manageability. As you adapt to the rod, you can go higher with the length and get much better casting distances. You can also pick best travel baitcasting rods which come in multiple pieces and are extendable.
Power
Usually, rod power depends on the type of fish you want to target. Being a new angler, a light power rod will facilitate your casual needs. It will also provide enough power to handle small-sized species such as trout and panfish during your practice sessions.
Action
It determines the point where the rod bends when under pressure. Similar to rod power, it also depends on the fishing technique you perform. If you want to target species of varying sizes and perform multiple techniques then, choose a fast action rod. Whereas, if you want to take an easy start with smaller fish and lures, go for a slow action rod.
Related Guides:
FAQs
1. Can beginners cast light lures with baitcasting reels?
Yes, you can cast light lures on your baitcaster. All you need is the appropriate adjustments of brakes and spool tension. 
2. Which fishing line should new anglers choose for a baitcaster reel?
Whether you are an expert or a beginner, braided lines are best suggested for baitcasting reels. It not only results in superb strength but has no virtual memory and is less likely to tangle. 
Conclusion
Purchasing the first baitcaster is not only overwhelming but tricky too. Once you have cut down the requirements, you can easily choose the one that matches your criteria.
According to our prolonged field testing and detailed research, the best beginner baitcaster combo of all time is the SHIMANO Curado DC Reel coupled with Fenwick HMG Rod.
The combo is quite an excellent value for the money and ensures tremendous performance. You can enjoy longer casting distances and catch your favorite fish without experiencing even a slight backlash.