If you believe that all baitcasters are built the same, you might be wrong. Some are designed a lot more durable with incredible reliability to perform well in saltwater. The difference usually comes in the construction of mechanical parts. The best saltwater baitcaster combo includes reels and rods with the corrosion-resistance property.
We found the best saltwater baitcasting rod and reel combo that has the backbone to tackle the rigors of brackish water. This includes the Shimano Curado K With Abu Garcia Vengeance. The premium construction and performance of the reel speak for itself. Whereas, the robust casting rod ensures great power and durability for saltwater.
Get to know the detail about the top saltwater baitcaster combos below: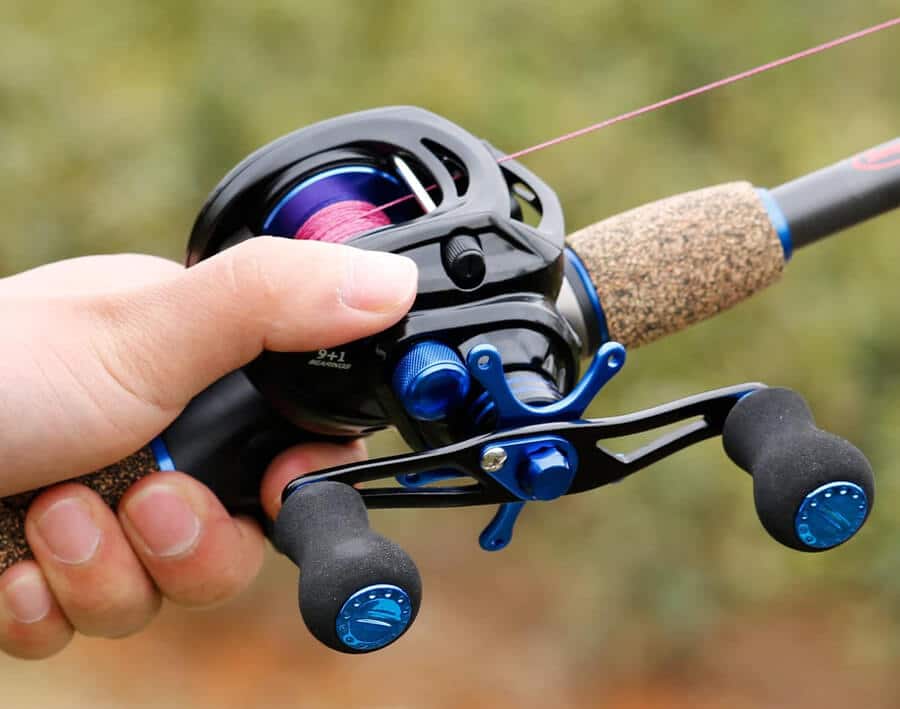 Best Saltwater Baitcasting Rod and Reel Combo
Specifications
Gear Ratio: 7.4:1, 8.5:1
Hand Orientation: Ambidextrous
Rod Length: 6'6", 6'9", 7'
The one-piece casting rod from Abu Garcia comes in three different lengths that fulfill most of the saltwater needs. We opted for the 7' MH rod and it made a great combo with the Curado K.
However, our anglers weren't able to perform surf fishing with this rod since it requires a longer length. The shock-absorbing tip enables the user to feel every nip and bump. It is solid enough to catch medium to heavy-sized bonito, bass, and sheepshead.
When paired with the Curado K, the combo sets a benchmark for all of its competitors. While the reel can be used for surf saltwater fishing, you can pair it with the Ugly Stik Carbon Rod for the purpose.
With the Curado K and Abu Garcia Vengeance combo, we achieved superb casting distances with lighter lures. The performance with 3/8 lures was the best. With the 11 lbs. max drag, it was quite convenient to reel in 10-20 lbs chinook salmon, 18 lbs. bass, and 14-16 lbs. trout.
Being our champion combo, the rod and reel work tremendously. However, the micromodule of the reel requires frequent lubrication since it seizes frequently.
Pros
Consistent spool with SVS infinity brakes
Comfortable EVA rod handles
Backlash-free performance
Cons
Unsuitable for surf fishing
Micromodule needs timely lubrication
Verdict
The Curado K reel with Abu Garcia Vengeance rod is indeed the best saltwater baitcaster combo for various saltwater applications. It offers an all-around performance with impeccable convenience.
Specifications
Gear Ratio: 5.3:1
Hand Orientation: Ambidextrous
Rod Length: 6'6", 6'10", 7', 8'
Nothing impresses more than a power-packed rod is extremely lightweight. Available in three lengths, we opted for the 7' MH rod. Compared to the Vengeance rod, it has an 8' variant that serves amazingly for surf fishing but, you might have to pair it with another reel.
Since it doesn't come in heavy action, catching bigger species could be a challenge. Despite having lots of backbone, it couldn't manage a load of fish like big catfish. With the 7' rod, the anglers enjoyed the smooth performance for porgy and flounder fishing.
As for the reel, it is incredibly powerful and does the job well for saltwater fishing. Speaking of inshore applications, the 6500 model could be overkill. However, Abu Garcia Ambassadeur 5000 model paired with the Ugly Stik Carbon rod will make the best surf fishing rod and reel combo for the money.
With the Carbon Matrix drag system, there was a consistent spool with superb smoothness. It offers an impeccable casting distance but is not as great as the Curado K. The 6-pin centrifugal braking system results in high precision while casting without any backlashes.
Since round profile baitcasters are heavier, this one could cause strain when used for prolonged fishing. 
Pros
Stainless steel rod guides
Ergonomic rod and reel handle
Suitable for trolling
Cons
Rod isn't heavy enough for large species
Heavy reel
Verdict
If you want a round baitcaster setup that can withstand lots of abuse in saltwater, look no further than the Abu Garcia Ambassadeur C3 and Ugly Stik Carbon Rod.
3. Shimano Tranx With Shimano Terez – Best Saltwater Rod And Reel Combo For Beginners
Specifications
Gear Ratio: 5.8:1. 7.6:1
Hand Orientation: Ambidextrous
Rod Length: 7'
Shimano Terez is one of the most durable and powerful rods ever, leaving behind all of its tough competitors. It features a Spiral X and Hi-Power X technology, which isn't found in any other casting rod by far. The Shimano Tranx and Terez are the best saltwater baitcaster combo for new anglers.
It offers great power from medium heavy to extra-extra heavy. That said, you can achieve tremendous casting distances with this rod and perform trolling and jigging. In our experience of using the 7' MH rod, we were able to fight against a couple of decent fish.
Known best for its carbon drag and viable braking system, Shimano Tranx is a great reel for saltwater. The 5.8:1 gear ratio can handle many lures especially big swimbaits. On the other hand, the 7.6:1 will give you speedy cranks with super-fast retrievals.
When compared to the Daiwa Lexa, it offered better performance when chasing musky. We used it for kayak and shore fishing without any difficulties.
When paired with the 8' Ugly Stik Carbon rod, it becomes the best surf fishing rod and reel combo for beginners. The only inconvenience that comes with the reel is when you have to set the centrifugal brakes. It requires the opening of the side plates to access the pins. 
Pros
Works great with braided and mono lines
Excellent line capacity
High power and durable rod
Cons
Complicated brakes adjustment
Verdict
Overall, the Shimano Tranx reel paired with Terez or UgliStik rod makes a genuine saltwater combo. It is well built and worth the money it is priced at.
Specifications
Gear Ratio: 7.3:1
Hand Orientation: Ambidextrous
Rod Length: 6', 6'6", 7'
Offering medium to medium-heavy power, this rod comes as a great choice for new learners. Its shock-absorbing tip makes it stand out among all other choices. This property ensures reduced strain on the rod while compensating for the poor stretch when braided lines are used.
The lure rating of 1/8 to 3/4 oz. opens several options for lures and baits. As it couples with Lew's reel, you will get a powerhouse for inshore saltwater fishing. The composite material makes it safe for brackish water.
The reel on the other hand comes includes corrosion-resistant internal components to ensure longevity. Even after gushing it rigorously for inshore fishing in salty waters, we didn't encounter wear and tear on the mechanical parts.
The 7.3:1 gear ratio feels better than the Shimano Tranx's 7.6:1 for a variety of fishing needs. The reel caused some trouble in the start when used with 30 lbs. braided line. However, it is an impeccable performer beyond 30 lbs. It helps us catch numerous speckled trout and redfish.
Pros
Shock absorbing rod
Easy to adjust magnetic system
High-speed gears
Cons
Unsuitable for casting big lures
Poor reel seat quality
Verdict
When using for inshore saltwater fishing, you need a combo that is well-protected for the purpose. The Lew's Speed Spool reel and Berkley's casting rod make an exceptional combo for it.
Specifications
Gear Ratio: 8.1:1
Hand Orientation: Ambidextrous
Rod Length: 7', 7'4", 7'6"
The rod offers a firm and comfortable grip along with exceptional performance in saltwater. When paired with the Daiwa Lexa reel, both make an excellent combo for musky fishing. Just like the Abu Garcia Vengeance rod, it is incompatible with surf fishing. However, the rod offers identical casting to our winning product.
However, when used with 4-6 oz. jigs, our anglers caught numerous rockcod, lingcod, Halibut, and cabezon. What makes this rod stand out among others is the X45 feature. It is responsible for enhancing durability and eliminating blank twists.
Do you love catching muskies? No other reel could provide an amazing performance as the Daiwa Lexa. The 25 lbs. max drag enables the users to pull hefty species without worrying about line breakage. Since some mechanical parts of the reel are not sealed, make sure to oil them frequently.
Our team loved how this baitcaster tackled the deep sea fishing without any backlashes. The 50 lbs. J braid from Daiwa was sturdy enough to pull multiple large muskies and rockfish. Though its Ultimate Tournament carbon drag system is quite efficient, it doesn't provide consistent drag like the Curado K. 
Pros
Capacity for extra line
Fast and smooth retrieve
Rod ensures lightweight and sensitivity
Cons
The reel is not completely sealed
Verdict
All in all, when it comes to the best saltwater baitcaster combo for musky and similar large species, Daiwa Lexa and Daiwa Proteus are excellent choices.
6. Penn Squall With St. Croix Mojo Rod – Best Saltwater Rod And Reel Combo For The Money
Specifications
Gear Ratio: 7.3:1, 9.2:1
Hand Orientation: Ambidextrous
Rod Length: 6'8", 7', 7'1". 7'4", 7'5", 7'6", 7'11"
One of the best casting rods out there, the St. Croix Mojo is a solid competitor to all the superb rods. Its advanced SCII graphite construction makes it as durable as the Abu Garcia Vengeance. However, it stands out among all other choices due to the integration of top-notch technologies.
The rod is available in numerous lengths which helps in building various setups for multiple saltwater applications. We paired our reel with the 6'8" medium rod. Its lure weight capacity is 1/4 to 5/8 oz. That said, we enjoyed it best for topwater fishing.
As the rod and reel came together, we got an incredible combo with all the right specs. From bay to kayak fishing, it was a great companion. This 300-size reel casts more than a mile without any bird's nest issues.
Unlike common baitcasters, this one offers a greater line capacity. That said, it enabled the anglers to retrieve faster with sheer smoothness. We used live baits and soft plastic lures to catch around 30 lbs. redfish. If you want to opt for 200 or 400-size models, these are unavailable in an ambidextrous hand orientation. 
Pros
24 lbs. powerful drag
Efficient magnetic brakes
Smooth rod operation
Cons
Other reel sizes are not ambidextrous
Verdict
Considering the specs and price, this combo is worthy of all praise. Its overall performance makes it the best saltwater baitcaster combo for a fair price.
Related Guides
Buying Guide
The best saltwater baitcaster combo is when you get both components right. The rod and reel must not only be compatible with each other but also have important features.
1. Rod
Most anglers prefer a casting rod made out of fiberglass because of the durability it offers. A newer material known as a composite which is a blend of fiberglass and graphite is also drawing anglers towards it. Composite rods are equally durable as fiberglass with a dash of added sensitivity and lightweight due to graphite.
For the length, you can choose between a 6 to 15 ft. rod based on the type of fishing you perform. If you need a rod for surf fishing, opt for at least 8 ft. or longer. Make sure the rod has corrosion-resistant parts for smoother operation in salt water.
The best rod for overall saltwater fishing is the Abu Garcia Vengeance. Whereas, for surf fishing, the Ugly Stik Carbon Rod would do the job perfectly. 
2. Reel
When it comes to buying a saltwater baitcaster, everything comes down to the corrosion resistance property. If the reel lack protection from saltwater, it would fail to go in the long run. It should be easy to clean so that you can keep it dirt free.
Speaking of surf fishing applications, never choose the one with excessive power since it could be overkill. The top saltwater baitcaster according to our experience is the Shimano Curado K and that for surf fishing is the Shimano Tranx.
FAQs
1. How often to lube the mechanical parts of a reel?
Even if your baitcaster is designed for saltwater fishing, you should lube it generously. If you are a frequent user then make sure to oil its mechanical parts at least twice a week. However, when used occasionally, lube it after every use or at least twice/thrice a month.
2. How to clean a saltwater baitcasting reel?
For the exterior, simply clean off any debris visible using a toothbrush or cotton swab. You can also use a small amount of isopropyl rubbing alcohol.
If the interior has lots of dirt accumulation, disassemble the spool and use a WD-40 to break down any oil or grease buildup. In case there is less dirt, use a cotton swab to clean it. Make sure to never use WD-40 for lubrication since it is a degreaser.
3. Why is it important to clean a saltwater baitcaster?
It is important to clean your reel regularly because dirt, sand, and debris can result in wear and tear. Whereas, grease and oil on the inside limit the casting distance.
Conclusion
Sometimes, despite having the right skill set, you fail to perform saltwater fishing with ease. It could be due to the poor selection of the combo. Make sure to use the rod and reel that can go well for similar purposes and do the job perfectly.
As per our experience, overall the best saltwater baitcaster combo is the Shimano Curado K With Abu Garcia Vengeance. From its versatile gear ratios to rod lengths, the setup can be used to catch medium to heavy fish without any trouble. You can also pair these with multiple lures, thrust deep into the water, and still enjoy a smooth operation.