Short for Zero Hour Bomb Company, the Zebco reels history dates back to 1949 when the company was established in Tulsa, Oklahoma. Since then, it has always tried to keep up with the technology to fulfill what every angler demands. Zebco made the first-ever spincast reel in 1949 and is the best producer till now.
Out of the vast range of products that the company offers, our favorite and best zebco reel is the Zebco Bullet. It's a piece of art that create super-fast retrieve per each handle turn. Also, this reel doesn't lag behind in terms of durability or overall performance hence, is an excellent all-around choice.
Spincast reels are also known as push-button reels. The name is based on the action of pushing down the button at the back of the reel to make a cast. These reels come in open and closed-face variants and are super easy to operate.
Following are the top rated Zebco reels that one can invest in for an ideal spincasting experience. 
10 Best Zebco Reels in 2023
Specifications
Gear Ratio: 5.1:1
Pre-Spooled Line: 10 lbs. Mono
Hand Orientation: Ambidextrous
As the name refers, the Zebco Bullet is the fastest spincast reel you will find. You will get an incredible 29.6 in. of retrieval for every turn of the handle. Its super-fast speed is the main reason why it is one of the most expensive Zebco reels on our list.
To further assist the speed, it has a 5.1:1 gear ratio, greater than any of the spincast reels by the company. Speaking of castability, it is just as smooth and easy as one would expect from the best Zebco reels.
The no-backlash property is comparable with top-tier baitcasters, thanks to the closed-face. The 30-size spincast reel delivers all the power for bringing in crappie, bass, and similar fish in the boat. Since it is slightly heavier than its competitor reels, make sure to pair it with a lightweight rod for good balance and stability.
Pros
Large bearing inclusion
Very sturdy
Easy long casting
Cons
Pricey
Needs deep cleaning after use in saltwater
Verdict
It is a slightly expensive choice for a spincast reel but considering the Zebco bullet reel reviews, you do get what you pay for i.e., outstanding performance.
Specifications
Gear Ratio: 2.6:1
Pre-spooled line: 20 lbs. Cajun
Hand Orientation: Ambidextrous
Starting with the Zebco 33 reviews, the model is loved by various anglers for different purposes. The company has been launching new models for the Zebco 33 with slight variations for decades.
The most recent ones include the Zebco 33 platinum, Zebco authentic 33, Zebco 33 max, and Zebco 33 micro. These are the trigger spin models. We tested the Zebco Max 33 and it turned out to be superb for large species.
However, the Zebco 33 platinum wins in terms of robustness and durability. If you are looking one for kids, the Zebco 33 micro is ideal. The best Zebco 33 reel that mimics a spinning reel's castability is the micro trigger spin.
The one we tried offered smooth operation with the line it came pre-spooled with. It was fun casting with this gear and achieving great distances with accuracy. Remember, it is not suitable for saltwater fishing.
Pros
Efficient QuickSet anti-reverse
Great line capacity
Powerful enough for large fish
Cons
Unsuitable for saltwater applications
Verdict
The top-tier features, ample strength, and unparalleled performance are what make this model one of the best Zebco reels.
Specifications
Gear Ratio: 3.4:1
Pre-Spooled Line: 10 lbs. Cajun
Hand Orientation: Ambidextrous
One of the most versatile spincast reels of all time is the Zebco Omega Pro. It comes in sizes 20 and 30 to cater to various fishing needs. Similar to the Zebco 33 models, these are also used for various fishing applications, especially for big fish.
The retrieve rate is a bit slow but smooth hence, the reel is best suited for slowers lures. Using the 30-size reel, we caught a couple of trouts, bass, and a few large walleyes. Speaking of the casting, the Zebco Omega Pro works remarkably.
Though the reel is suitable for a variety of species, its slow retrieve rate i.e., 19 in. might be bothersome for many anglers. Feeding the line is quite convenient in this reel as compared to its other closed-face counterparts.
Moreover, considering the price, we expected the reel to work smoothly in saltwater. However, when used, it required intensive rinsing to prevent the mechanical components from corrosion. If not taken care of properly, the gear is likely to lose its performance.
Pros
No tangling issues
Extremely durable
Highly adjustable drag
Cons
Verdict
Looking for one of the best Zebco reels that knows how to operate well for various species? The Omega Pro has got you covered with its amazing functionality and performance.
Specifications
Gear Ratio: 2.8:1
Pre-Spooled Line: 15 lbs. Mono
Hand Orientation: Right Hand
As a new angler, you wouldn't want to spend a hefty amount of money on a spincast. That is when the Zebco 404 comes as an ideal choice. It boasts a no-tangle design which makes it easier to practice fishing without any inconveniences.
It has a slower retrieve, even more than the Zebco Omega Pro i.e., only 16 in. But, it is sufficient enough for beginners to get hold of basic fishing handling techniques. The bite alert feature comes built-in with the reel. It makes a loud clicking sound as soon as any fish takes the line, making the new angler alert.
Even though the model features stainless steel pins, it does corrode in saltwater conditions. Moreover, some of our experienced anglers faced durability issues with the reel. Expecting anything more than a decent performance for beginners from this reel would be unfair considering its extremely cheap price.
Pros
Inexpensive
Decent casting
Easy to use
Cons
Verdict
Our straightforward Zebco 404 reel review would praise how impressive this closed-face spincast reel is for beginners.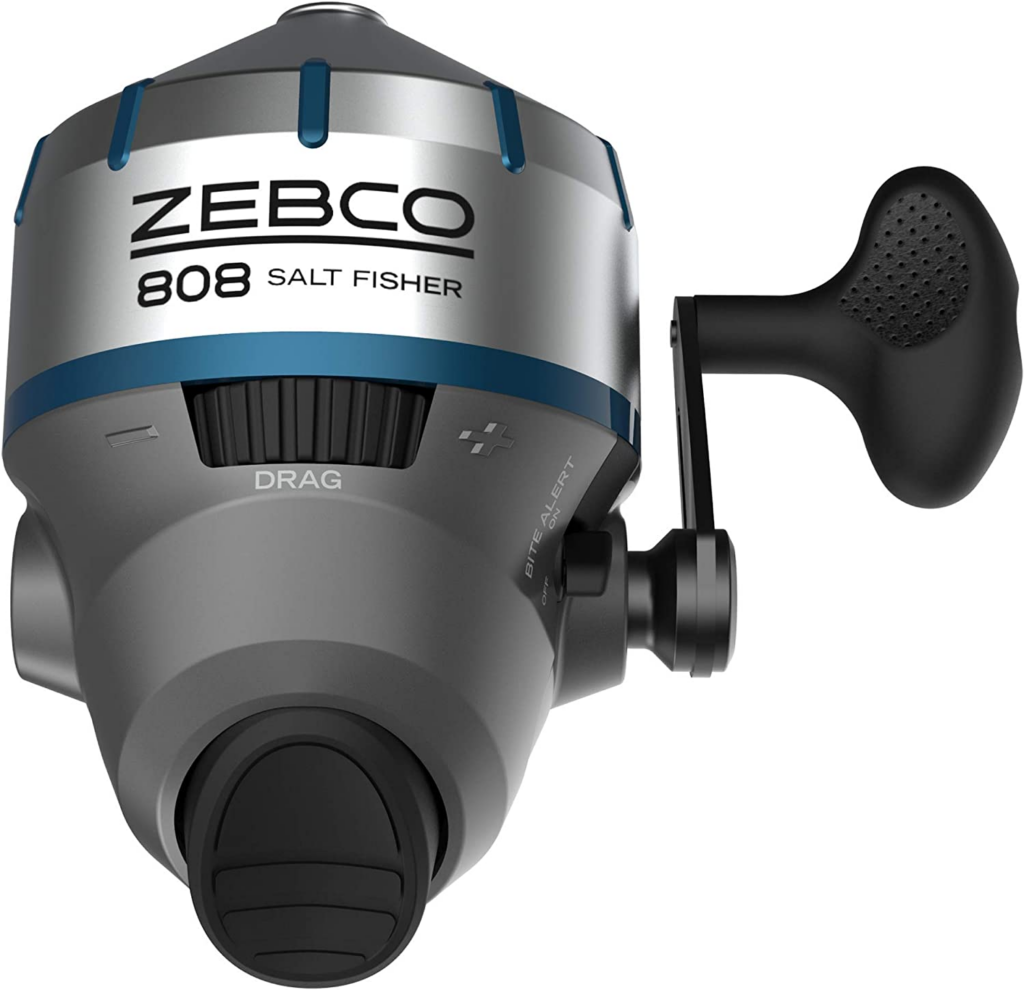 Specifications
Gear Ratio: 2.6:1
Pre-Spooled Line: 20 lbs. Mono
Hand Orientation: Ambidextrous
This competent model from Zebco is an ideal choice for anglers that love fishing in harsh saltwater conditions. Designed to fit the needs and reel in mighty fish, the Zebco 808 comes in size 80 and a 20 lbs. pre-spooled line.
Just like some of the best Zebco reels, this one includes a no-tangle design which does work efficiently. Furthermore, the interchangeable handle offers an ambidextrous hand orientation. It helped a few of our team members to share the reel easily.
Not only you can use it to learn fishing but also fight against numerous saltwater species. We successfully pulled in shoreline redfish, blacktop sharks, and catfish with this reel. Its sturdiness adds weight to the reel hence, can cause arm strain during prolonged fishing sessions.
Pros
Offers great power
Built-in bite alert
Easy to adjust dial drag
Cons
Verdict
The 808 model is the best Zebco reel ever made for saltwater fishing without losing its longevity and performance.
Specifications
Gear Ratio: 2.6:1
Pre-Spooled Line: 25 lbs. Cajun
Hand Orientation: Ambidextrous
In terms of power, the Big Cat XT is the biggest Zebco reel to catch large catfish and alike species. The 25 lbs. line comes pre-loaded on the spool which is responsible for winning fights against mighty fish.
To test its potential, we replaced the line with a 40 lbs. braided line and there were no issues with casting. We could still achieve great distances with high accuracy and less effort. The fish alert feature makes a good sound as soon as a fish tugs.
Our team managed to reel in a few catfish using the pre-spooled line. However, the new line worked even better for hefty catfish as well as carp. Similar to the Zebco 808 reel, this one is also built too large for some anglers.
Though it is easy to use, the features are overkill for beginners. In our experience, one of the best Zebco reels for new anglers is the Zebco 404.
Pros
No backlash
Free-flowing spool with no friction
Interchangeable handle
Cons
Better casting and power with a more powerful line
Quite bulky
Verdict
If you are an experienced angler and looking for the best Zebco reels to tackle large fish, the Big Cat XT could be it.
Specifications
Gear Ratio: 2.8:1
Pre-Spooled Line: 10 lbs. Mono
Hand Orientation: Right-Hand
Be it a beginner or an experienced angler, the 202 model is among the top Zebco reels under a budget. It comes with the right set of features to catch fish such as trout, panfish, bass, and walleyes.
For the price point, you do get a fair number of features with this reel that help with basic fishing. Compared to the Zebco 404 model, it comes pre-spooled with a slightly lighter line. That said, it works best for trout and similar fish.
Because of the stainless steel pins, we used this reel in brackish water which didn't turn out to be a great experience. The reel lacks high durability and efficient corrosion-resistant property. However, it would be too much to ask for keeping in mind the low price of this reel.
Pros
Excellent for new anglers
Decent casting
Works great with light line and lures
Cons
Not ambidextrous
Par durability
Verdict
If you wish to start fishing with a spincast reel, the Zebco 202 can offer some impressive functionality without adding load to your pocket.
Specifications
Gear Ratio: 3.6:1
Pre-Spooled Line: 10 lbs. Mono
Hand Orientation: Ambidextrous
The Zebco Roam reel come in two variants for different fishing techniques i.e., spincast and spinning. Speaking of the spincast version, it is a promising fishing gear designed to fulfill the criteria of various anglers.
The line it comes with is 10 lbs. mono which offers decent performance for small trout and bass. However, if you go a little higher with the fish size, you might want to replace it with a sturdier one having a similar diameter.
We used 8 lbs. braided line and caught a medium-sized pike, bass, and salmon. It delivered an amazing castability at fair distances. Also, the lightweight line faced no issues in reaching the tight places.
The only flaw we would mention in our Zebco roam reel review is the overall meagre build quality.
Pros
Efficient Quickset anti-reverse clutch
Ultra-high abrasion resistance
Smooth retrieve
Cons
Poor longevity
Unsuitable for saltwater
Verdict
We loved how the Zebco roam reel includes an amazing set of features and operates well for beginners and intermediates.
Specifications
Gear Ratio: 2.9:1
Pre-Spooled Line: 10 lbs. Mono
Hand Orientation: Ambidextrous
A small spincast reel that lets you experience a smooth fishing experience is the Zebco Delta. Because of its small size, it comes with a low gear ratio and only 10 lbs. of pre-spooled mono line.
As compared to the Zebco Omega Pro Reel, it has an even slower retrieve rate i.e., only 16 in. per turn. That said, this gear offers the best learning experience to new anglers. If you are a casual angler, this reel would work without any issues.
The pre-spooled line was good to go with for catching casual prized catches and helped us get trout and panfish. For the price, the reel is a fair deal with average durability and no saltwater safety.
Pros
Smooth drag and cast
Good for learning
Interchangeable handle
Cons
Slow retrieve rate
Not the best build quality
Verdict
The Zebco Delta reel is a great choice for anglers to begin with the fishing adventure or perform casual activities.
Specifications
Gear Ratio: 5.3:1
Pre-Spooled Line: 10 lbs. Mono
Hand Orientation: Ambidextrous
Call it a spinning reel or an open-faced reel, the Zebco Spyn is designed tough for a variety of fish. After the Zebco bullet, this one comes as another fast reel by the company with 28 in. per turn.
One prominent feature that we noticed during the use is its Anti-Reverse clutch technology. It keeps the reel handle under control to create a solid hookset for the species that you are targeting
As far as usability is concerned, we found it equally easy to use as the spincast reels. While the majority of spinning reels are suitable in saltwater, this one doesn't have any relevant protection for it.
Pros
Fast retrieve rate
Powerful enough for medium fish
Smooth operation
Cons
Prone to line tangling despite the design
No saltwater protection
Verdict
A tough spinning reel that users could use for a couple of fishing techniques with convenience is the Zebco Spyn.
Check out our Related Guides on Other Fishing Reels
Buying Guide
After gathering Zebco reel reviews from anglers having varying experiences, we found out the following important aspects. Carefully understand the following to get yourself the best Zebco reels.
1. Open Face vs. Closed Face
As the name suggests, an open-face reel is one where you can see the line on the reel. A closed reel on the other hand features a metal cup in which the spooled line is enclosed. The chart below reveals in which aspect the two types of spincast reels differ:
| | | |
| --- | --- | --- |
| Features | Open Face Reels | Closed Face Reels |
| Casting Distance | Casts exceptionally far | Casts a little farther thanopen face reels |
| Casting Accuracy | Superb accuracy at long distances | Good accuracy |
| Backlash | Highly prone to backlashes | Less likely to backlash |
| Versatility/Flexibility | Very flexible | Less versatile |
| Ease of Use | Beginner-friendly, extremely simple to operate | A little harder to use |
| Cost | Higher than closed face reels | Very cheap |
2. Type of Line
Almost every spincast reel is pre-spooled with a mono line which might not suit everyone's fishing needs. That said, some anglers take it out and load their desired line on the spool. Many do this because you never know how long the line has been in the reel hence, could impact the performance.
However, sometimes a new reel could have a greasy line. Therefore, anglers replace it after wiping the spool. Remember, whichever line you use comes with the same diameter as the older one.
If you are using a braided line, it should have an identical diameter to the pre-spooled mono line. Whereas, the fluoro line should have equal to or less than 4 lbs.
FAQs
1. Is Zebco a good brand?
Yes, Zebco is a great brand, especially for budget spincasting reels. Despite being low on price, reels from Zebco offer amazing reliability, great control, and castability as well as smooth operation.
2. Where are Zebco reels made?
The low-end Zebco fishing reels are manufactured in China. Whereas, the higher-end ones are made in Oklahoma, USA.
Conclusion
From all those listed above, we loved the Zebco Bullet Spincast Reel the most. It comes with everything an angler looks for in a spincast reel. Offering the right set of features and superb performance with exceptional speed, it is indeed one of the best Zebco reels to invest in.